Нugо Rасе Аnd Michelangelo Russo - John Lee Hooker's World Today (2017)
Нugо Rасе Аnd Michelangelo Russo - John Lee Hooker's World Today (2017)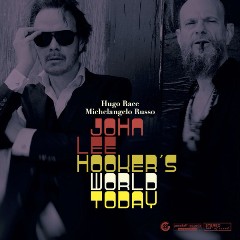 1 	Hobo Blues 	9:51
2 	Love Blues 	3:05
3 	Serves You Right To Suffer 	6:11
4 	Decoration Day 	6:20
5 	The World Today 	3:49
6 	The Motor City's Burning 	6:56
7 	Country Boy 	6:05
8 	When My First Wife Left Me 	6:00

Нugо Rасе - vocals, guitars
Michelangelo Russo - blues harp

Hugo Race (founding member of Nick Cave & the Bad Seeds and The Wreckery) and Michelangelo Russo are no strangers to either Hooker or the blues. They are about to embark on a national tour from July 2017, with the reimagining of Hooker, paying homage to one of the greats of rock and roll prehistory. Recorded in a single, continuous day and night live session at the Berlin studio of Einsturzende Neubauten by engineer Boris Wilsdorf, this is an epic album of sonic sorcery suspended in time and place.
The selection of tracks tells a story in itself; from the runaway twelve-year old boy of the desolate classics 'Hobo Blues' and 'Country Boy' to the worldly-wise elder Hooker of 'The World Today' (originally from Hooker 'n Heat) and The Motor City's Burning (a cover of Hooker's cover of the MC5 classic), the album traces the arc of a life from pre-modernity to the Now on the 100th anniversary of Hooker's birth. Race and Russo's reimagining of Hooker is simultaneously blues, electronica, avant-garde and ambient, a homage to one of the greats of rock and roll prehistory, delivered with a sting and a twist more relevant than ever to The World Today.--- flyingsaucerclub.com.au
Co można zrobić w XXI wieku z klasyką bluesa? Race i Russo mają na to swoją receptę! Tych panów łączy miłość do bluesa. Postanowili sięgnąć po repertuar Johna Lee Hookera, poświęcając mu całe wydawnictwo zatytułowane "John Lee Hooker's World Today" (19.05.2017 | Gusstaff Records CD / Glitterhouse LP).
Michelangelo Russo to włoski artysta wizualny, muzyk i eksperymentator – w tym przypadku harmonijkarz wspomagający się elektroniką. Materiał na "John Lee Hooker's World Today" został zarejestrowany w trakcie jednej całodniowej i całonocnej sesji w berlińskim studiu Borisa Wilsdorfa (Einstürzende Neubauten).
Mamy tu nagrania Hookera z różnych okresów: od "Hobo Blues" i "Country Boy" po "The World Today". Oczywiście nie są to sztampowe covery grane z myślą o taniej spelunie wypełnionej piwnymi dziadami. Domyślam się, że reakcje ortodoksyjnych bluesowców na aranżacje Race'a i Russo mogą być różne, wręcz rysujące na ich twarzach grymas niezrozumienia. Mroczna chrypa Hugo Race'a i jego gitarowe eksperymenty, bardzo dobrze się czują w towarzystwie noise'owo-ambientowej harmonijki Włocha. W ich interpretacjach jest dużo szacunku dla oryginału, a jednocześnie bije z nich nieustające źródło inspiracji. ---Łukasz Komła, nowamuzyka.pl
download (mp3 @320 kbs):
yandex 4shared mega mediafire uloz.to cloudmailru gett