Micki Free - Tattoo Burn-Redux (2017)
Micki Free - Tattoo Burn-Redux (2017)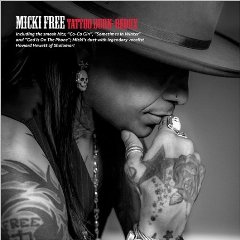 1. God Is On The Phone
2. Tattoo Burn
3. Greens & Barbeque
4. Six Feet Down In The Blues
5. Mojo Black Coffee
6. Co-Co-Gin
7. There's A Hole In The Heart Of The Blues
8. Angels In The Room
9. Hey Baby (The New Rising Sun) [Remix]
10. Five Minutes 'til Christmas
11. Sometimes In Winter

Micki Free – vocals, guitar, bass
Hovard Hewett – vocals on "God Is On The Phone"
Mark "Muggy Doo" Leach – Hammond organ
Paul Brown – Hammond organ
Randy Singer - harmonica
Bill Wyman - bass
Jack Dailey - bass
Kenny Gradney - bass
Cindy Blackman-Santana - drums
David "Hawk" Lopez – drums

This one took me by surprise. I quickly learned that Micki Free is a Grammy Winner and five-time Native American Music Award Winner. Free is a Comanche-Cherokee who was discovered and managed by Gene Simmons of KISS; he was the guitarist for R&B artist Shalamar and worked with Prince, Billy Gibbons of ZZ Top, and Santana. He had huge songs in movies like Footloose and Beverly Hills Cop, for which he won the Grammy for his contribution to the soundtrack. He's spent most of his career in Europe too. So, how does a guy with this pedigree make a strong blues album?
One answer is his ability to land guests Bill Wyman, Cindy Blackman-Santana, Mark "Muggie Doo" Leach (of Buddy Miles Express), Billy Gibbons, and vocalist Howard Hewlett. Together they concoct an intoxicating mix of hard-driving R&B, soul, funk and blues with a heavy dose of Hendrix-inspired guitar. So, that's the second answer. There's a more than a few genres here.
The opener is the rousing gospel tune, "God Is On The Phone," a duet with Hewitt. Billy Gibbons adds his wailing guitar to the title track. Free then moves into R&B with "Greens & Barbecue" and plunges blues deep into the slow burning "Six Feet Down in the Blues." Other highlights include the grinding "Mojo Coffee," and his Hendrix cover, "Hey Baby (New Rising Sun)." Free even adds a pulsating, humorous Christmas tune, "Five Minutes to Christmas." The album closes on a rousing, uplifting gospel hymn, "Sometimes in Winter," with Free's guitar resounding amongst a gospel choir.
Blues purists may not climb aboard but I find the variety of grooves, the incendiary guitar playing, and the passion in Free's vocals compelling. Hendrix fans will adore this album. ---Jim Hynes, elmoremagazine.com
download (mp3 @320 kbs):
yandex 4shared mega mediafire uloz.to cloudmailru gett
Last Updated (Wednesday, 28 June 2017 15:11)