Raful Neal ‎– Louisiana Legend (1990)
Raful Neal ‎– Louisiana Legend (1990)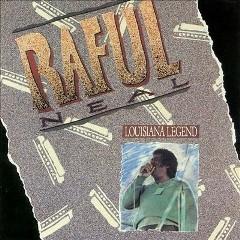 01. Luberta (2:57)
02. Steal Away (4:13)
03. Blues On The Moon (2:56)
04. Down And Out (4:31)
05. You Don't Love Me (3:16)
06. No Cuttin' Loose (3:15)
07. Been So Long (4:33)
08. Late In The Evening (2:29)
09. Honest I Do (2:59)
10. Let's Work Together (2:40)

Bass, Saxophone – Bob Greenlee
Drums – Denny Best, Jim Payne, Scott Corwin
Guitar – Bryan Bassett, Ernie Lancaster
Harmonica, Vocals – Raful Neal
Keyboards – Barry Rupp, Red Simpson
Lead Guitar – Kenny Neal
Saxophone – Noble Watts
Trombone – Jon Paltishall
Trumpet – Bruce Staelens

Kenny Neal's dad Raful is a longtime Baton Rouge swamp blues stalwart whose own discography is way sparser than it should be. This album, first out on Bob Greenlee's King Snake logo, is an atmospheric indication of what the elder Neal can do with a harmonica, mixing covers ("Steal Away," "Honest I Do," "No Cuttin' Loose") with spicy originals. ---Bill Dahl, AllMusic Review
Raful Neal was one of the key architects of the Baton Rouge blues and R&B sound, with a career that spanned six decades. With his relaxed vocal style and piercing, behind-the-beat harmonica, he won a devoted following on the South Louisiana scene and became an icon on the international blues scene.
Raful Neal was born on June 6, 1936 in Baton Rouge, Louisiana. He and his sister Cora lost both parents early in life. They grew up with an aunt and uncle on a tenant farm in Chamberlin, a small town outside of Baton Rouge, where they cut cane and picked cotton.
Neal began playing harmonica at age 14. At age 17, he formed his first band, The Clouds, which originally included Lester Johnson (later known as Lazy Lester) on guitar. Lester was later replaced by a very young guitarist named Buddy Guy. The band played Baton Rouge clubs and local parties and gradually established a large regional following. At the age of 22, Raful was popular enough to be signed by the giant Houston-based R&B label, Peacock Records, and cut his first single, "Sunny Side Of Love." Through the 1960s he recorded for various Louisiana labels, including La Louisiane and Whit, cutting local hits that never quite broke nationally.
After hearing Neal in Baton Rouge, Little Walter was so impressed that he invited Neal to come to Chicago and play local gigs in his place when he was on tour. Neal turned him down, as he had just gotten married and settled down with his new wife. But his harmonica playing was so strong that he won the nickname of "The Little Walter of Louisiana."
While regionally popular, Neal didn't find an audience outside of Louisiana until 1987, when his version of "Man, Watch Your Woman" came out on the Fantastic label. The song was nominated for a Blues Music Award in the "Blues Single of the Year" category. Neal's first full album, Louisiana Legend, was released on King Snake and later reissued on Alligator in 1990. In 1991, Neal recorded I Been Mistreated for Ichiban Records and, in 1998, Old Friends for Club Louisianne.
Nine of Neal's 11 children inherited his blues-playing prowess and play professionally, including acclaimed guitarist/vocalist/songwriter Kenny Neal, who played on Louisiana Legend, and Raful Neal, Jr., who plays guitar with Bobby "Blue" Bland.
Raful Neal was inducted into the Louisiana Blues Hall of Fame in 1995. He continued to play locally on a regular basis and perform festival dates all over the world until his death on Sept. 1, 2004. Today he is venerated as one of the true greats of the Louisiana blues scene. ---alligator.com
download (mp3 @320 kbs):
yandex 4shared mega mediafire uloz.to cloudmailru uplea