Mark May - Telephone Road Houston TX (1997)
Mark May - Telephone Road Houston TX (1997)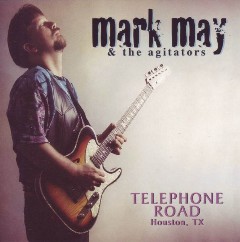 1 	Mercury Blues 	
2 	Don't Give Up 	
3 	Sweet Spot 	
4 	Lights Are On But Nobody's Home 	
5 	Joann 	
6 	Telephone Road 	
7 	Icehouse Special 	
8 	Back In The Joint 	
9 	Took Me By Surprise 	
10 	She's A Stranger 	
11 	I'll Be Around 	
12 	Helena Hangover

Mark May (guitar, dobro, 6-string bass, vocals)
Larry McCray, Alan Haynes, Billy Wells (guitar)
Eric Demmer (saxophone)
Dave Nevlin (harmonica)
Travis Doyle (Hammond B-3 organ)
Dan Cooper (bass)
Greg Grubbs (drums)
Debbie Watson, Yvonne Washington, Barbara Pennington (background vocals)

Blues-rock with a distinct Texas edge is Mark May's thing. His playing recalls various Texas legends like Johnny Winter and Albert Collins, while always skirting the rock speed-demon side of the musical equation. This outing finds him surrounded by his regular rhythm section of Dan Cooper on bass, Travis Doyle on organ and Greg Grubbs on drums. May shares guitar soloing duties throughout the album with Alan Haynes ("Don't Give Up"), Billy Wells ("Mercury Blues") and Larry McCray (an impassioned Albert Collins duel on their mentor's "The Lights Are On, But Nobody's Home"), producing fireworks with every trill and bent note. Also noteworthy are several tracks featuring the Memphis Horns, who shine brightly on "Icehouse Special" and the soul ballad "Took Me By Surprise." When May keeps his playing roped in and restrained, the musical results are well worth a second listen. ---Cub Koda, AllMusic Review
I thought that I had heard Steve Miller's song "Mercury Blues" before, which opens Telephone Road, from Mark May and The Agitators ... I instantly realized that I hadn't ... I actually had to let my stereo cool down before playing the next track.
Mark May comes from a long line of traditional electric bluesmen who began their lives, not only their careers, listening to the likes of Muddy Waters, Charlie Musselwhite, Albert Collins, Paul Butterfield and on and on ... all of the greats who rose to stature during the 1960's. You'll note that I've omitted Stevie Ray Vaughn, who also hails from the great state of Texas ... but make no mistake, Mark is no "wanta' be," his wishing days are long over ... he's the real deal. And with The Agitators at his back, these gun slingers may be riding under the radar for now ... but once you give them a listen, they'll be at the top of your contemporary blues list for a long time to come.
The album is exceptionally clean, crisp, and well laid out. Mark has a voice for the blues one could wait a life time to hear ... and that voice is featured prominently, with a funky Hammond Organ that at times plays off his vocals, matching him word for word. On "Telephone Road" he steps below the boarder into Mexico, for a Tex Mex Blues rendition that is beyond description. His playing can be slow and thoughtful, or blisteringly fast ... but always precise, perfect, and calculated, all with an effortless feel ... as if the notes are actually flowing out of him. There is a fine horn arrangement which backs him up on several numbers, and Mark's perfection is not lost on The Agitators either ... each note they play is perfect, each note is held for just the right length of time, each note from the horns frames his words ... a balancing act that has been well rehearsed.
Dig this one, you'll be glad that you did. When you're as good as Mark May, there is no need to show off ... period. ---streetmouse, rateyourmusic.com
download (mp3 @320 kbs):
yandex mediafire ulozto gett bayfiles