Sugar Blue - Blue Blazes (1994)
Sugar Blue - Blue Blazes (1994)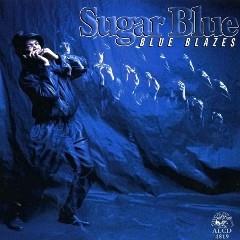 1 	I Ain't You 	2:37
2 	Help Me 	5:36
3 	Miss You 	6:10
4 	I Just Got To Know 	6:05
5 	One More Mile To Go 	4:00
6 	That's All Right 	6:08
7 	Country Blues 	5:21
8 	Back Door Man 	7:01
9 	Just To Be With You 	6:30
10 	Out Till Dawn 	9:21

Bass – Charles Hosch
Drums – James Knowles
Guitar – Motoaki Makino, Rico McFarland
Harmonica, Vocals – Sugar Blue
Keyboards – Roosevelt Purifoy
Tenor Saxophone – Henri Ford
Trombone – Bill McFarland
Trumpet – Kenny Anderson

Harmonica player and vocalist Sugar Blue isn't a singer who doubles on harp; he's an extraordinary instrumentalist who's also a quality vocalist. Blue covers tunes by Willie Dixon, Muddy Waters, James Cotton and Sonny Boy Williamson (II) classics, presents a decent, if disposable version of The Rolling Stones' "Miss You," and adds the good-natured original "Country Blues," co-written with his guitarist Motaoaki Makino. But it's those harmonica lines and phrases that make the CD. One of Alligator's best contemporary albums in a long time. ---Ron Wynn, AllMusic Review
Sugar Blue is known as the Jimi Hendrix and Charlie Parker of the harmonica for his astonishing technical mastery. His style is melodically fluid, instantly recognizable for its soaring trills, flamboyant flourishes and swooping glissandos that bring the tiny dynamo's remarkable sonic and emotional range to life.
Born in Harlem, New York he spent his childhood listening to performances by some of the finest show people of the day, including Billie Holiday, Lester Young, Dexter Gordon and James Brown, at the famous Apollo Theatre where his mother was a singer and dancer.
His fate was sealed when an aunt gave him a harmonica for his tenth birthday: it was instant love and he began playing along with Bob Dylan (with whom he would later record…) and Stevie Wonder songs on the radio as well as Little Walter and Sonny Boy Williamson. It was this diverse background that gave birth to his own unique sound.
A Greenwich Village street entertainer, Blue found his distinctive nick name amongst some 78s in a box thrown out of a window on hot summer night… . "The box almost hit me…I picked a record up," he remembers, "and it said 'Sugar Blues' by Sidney Bechet. And I went -That's it! " He made his first recordings in the mid 1970s with pioneering blues figures Brownie McGhee, Roosevelt Sykes, Victoria Spivey and Johnny Shines.
…the man who took Little Walter's innovations on that same instrument clear into the stratosphere-Time Out Chicago
On the advice of pianist Memphis Slim, he moved to Paris, France where he met the Rolling Stones who used his unmistakable sound to good advantage on three of their albums: that's Sugar Blue's harmonica blasting on their '78 platinum disco hit "Miss You".
He waxed a pair of albums, Crossroads and From Paris to Chicago, in Europe before moving to Chicago to learn more from the giants of the blues harmonica. He toured with Willie Dixon's Chicago Blues All Stars, formed his own band and won a Grammy in 1985 for his contribution to the album Blues Explosion recorded live at the Montreux Jazz Festival. He also played on Willie Dixon's Grammy winning album Hidden Charms in 1989.
"…one of the foremost harmonica players of our times …-Rolling Stone
Blue has made a few appearances on the big screen too: he performed in the Cinemax special, Fats Domino and Friends, (with Ray Charles, Jerry Lee Lewis and others) in the 1987 thriller, Angel Heart starring Robert DeNiro and in the recent years in "The Perfect Age of Rock'n'Roll" along with Pinetop Perkins, Hubert Sumlin, Ruby Dee and Peter Fonda.
After a brace of albums, Blue Blazes (1994) and In Your Eyes (1995), on the prestigious Alligator label, Blue took a 12-year hiatus from the studio, returning in 2008 with the highly acclaimed Code Blue., followed by Threshold and his latest work, a powerful live double album "Raw Sugar Live". ---petersplayers.com
download (mp3 @320 kbs):
yandex mediafire ulozto gett bayfiles