Detroit Blues Band - Can't Get You Off My Mind (1995)
Detroit Blues Band - Can't Get You Off My Mind (1995)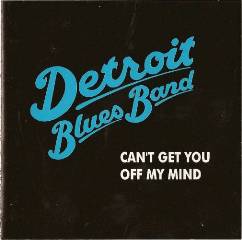 1	Sister's Got a Lover 			
2	Tell Me 			
3	Every Day I Have the Blues 			
4	Won't You Consider 			
5	Missing You 			
6	She Winked Her Eye 			
7	Too Close for Comfort 			
8	East Side Gal 			
9	Tears From My Eyes 			
10	Can't Get You Off My Mind

Emmanuel X. Garza – vocals, guitar
Jim McCarty – guitar, vocals
Rick Stel – bass
Tommy "T-Bone" Wagner - drums

Jim McCarty DOES appear on this and plays some great blues guitar, as well as writing some great tunes, and the band plays great as well. I had this confused with another DBB release on which McCarty does not appear.
He is truly one of THE great unsung American guitar heroes and is criminally underrepresented on record. Hopefully more of his work with Buddy Miles will be released and his work with the Rockets was just re-released. He can do it all - his work with Cactus was stupendous and on a par with Jeff Beck's work with the Jeff Beck Group and was strongly reminiscent of Jimmy Page's work with Led Zep without copping JP's licks....more like he captured JP's thick Les Paul/Marshall tone and was the closest thing to an American British Invasion guitar slinger.
This showcases his blues side and demonstrates that he has the feel and emotional depth to do that genre justice. There are very few true American guitar heroes and Jim McCarty is surely one of the best. Just wish there was more of him on CD.
My sincere apologies to Jim and No Cover Productions (who I bought this directly from and are very friendly and give great service) for erroneously reporting that he wasn't on this disc in my previous draft of this review. --- R. D. Towle, amazon.com
The Detroit Blues Band has been a popular favorite with blues fans for many years. This is the final release featuring veteran rocker, Jim McCarty. Jim has been in many great bands including Cactus, Mitch Ryder & The Detroit Wheels, The Rockets, and The Buddy Miles Blues Express (Where he basically filled the shoes of Jimi Hendrix) Rick Stel joined the Detroit Blues Band on bass after the release of their first Cd. The rest of the Band is formed by the 20 year association of lead vocalist and guitarist, Emmanuel X. Garza and Tommy "T-Bone" Wagner on drums.
The Blues Review says, "One of the best local sets of the year by one of the best bands this town has ever produced".
Bob Talbert of the Detroit Free Press calls it, "One of the City's finest musical aggregations." —cdbaby.com
download (mp3 @256 kbs):
yandex 4shared mega mediafire zalivalka cloudmailru uplea