Detroit Blues Masters Vol. 8 – Calvin Frazier
Detroit Blues Masters Vol. 8 – Calvin Frazier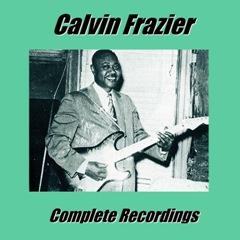 01. This old world is in a tangle
02. I'm in the Highway man
03. Lilly Mae blues
04. Welfare blues

Calvin Frazier – vocals, guitar
Sampson Pittman – guitar
Detroit, Mi. 15-16 october 1938

05. She's a double crossin' woman
06. The Dirty dozens
07. Boogie woogie
08. Lilly Mae n°2
09. Blues
10. Highway 51

Calvin Frazier – vocals, guitar
Sampson Pittman – guitar
Detroit, Mi. 1 november 1938

11. Sweet Lucy (Drinking woman)
12. Bebop boogie

Calvin Frazier – vocals, guitar
+ band
Detroit, Mi. 1949

13. Got nobody to tell my troubles to
14. Rock house
15. Lillie Mae n°3
16. I need love

Calvin Frazier – vocals, guitar
Barbara Brown – vocals (16)
Toledo, Oh. 1951

17. Got nobody to tell my troubles to n°2
18. Little baby child

Calvin Frazier – vocals, guitar
T.J. Fowler – piano
Elliot Escoe – trumpet
Walter Cox – tenor saxophone
Lee Gross – alto saxophone
John Murphy – bass
Clarence Stamps – drums
Detroit, Mi. 25 july 1952

19. Sweet bread baby - Lilly Mae n°4

Calvin Frazier – vocals, guitar
Jimmy Millner's Blue Rhythm
Detroit, Mi. 1952

20. We'll meet again
21. Lilly Mae n°5
22. Track down
23. Rockhouse

Calvin Frazier – vocals, guitar
Washboard Willie – washboard, drums
Detroit, Mi. 1956

24. Have blues, must travel

Calvin Frazier – vocals, guitar
+ band
Detroit, Mi. 1958

25. 2-2-5 Special I & II

Calvin Frazier – vocals, guitar
Washboard Willie – washboard
Detroit, Mi. 1960

Among the handful of those who "really" lived and played with Robert Johnson, Calvin Frazier is altogether the less known and maybe the closest to Robert.
Calvin is born on February, 16th, 1915 at Osceola (Arkansas), one of five children of Van and Belle Frazier, a family of sharecroppers. As early as 1923, the Fraziers come to Memphis for better jobs, the father working on a furniture factory and the mother in a laundry. The Fraziers are very religious and also good musicians and they form a Gospel band with Van singing and playing fiddle, banjo, guitar and bass, Belle singing and playing the piano while Johnny, the elder son, is already a fluent guitar player who strongly influences his little brother Calvin. Quite often, one of their cousin, Johnny Shines, comes to live and also plays with them.
But the Frazier brothers - with quite often Johnny Shines - play also the blues for extra money on the Memphis Streets. Around 1930-31, the trio has enough reputation to play outside Memphis, in Tennessee as well as in the Delta juke joints and in Helena (Ark) where they meet Robert Johnson, playing there in the streets, backed by the drums of Peck Curtis (!). The young men become quickly friends and Robert will very often play with the Fraziers and Johnny Shines at juke joints, parties, picnics and such... In Memphis, Calvin accompanies also the famous pianist Speckled Red who teaches him many of his favorite songs like Dirty dozens.
In 1935, a family brawl between Johnny Frazier and his father in law turns into tragedy. Johnny is shot dead by his father in law while Calvin, wounded, has just the time to catch a rifle in his car and kill his brother's murderer. After a short stint at Memphis hospital, Calvin chooses not to trust the local justice and, alongside his old partners Robert Johnson and Johnny Shines, takes the road up to Saint Louis. Although those "rural" musicians are not very well greeted by the local accomplished bluesmen they nevertheless play here and there with Roosevelt Sykes, Peetie Whetastraw and Blind Teddy Darby (whose vocals will strongly influence Shines).
After Saint Louis, the three friends want to go to Chicago seeking better opportunities but while playing in Decatur they are hired by the Elder Moten Show, a Gospel caravan which needs them for a series of well paid Detroit dates during the fall of 1935.
While in Detroit, they live at the home of Johnny Shines' cousin Frances Dunlap who some weeks later marry Calvin. Getting a good steady job in a motor plant, Frazier decides to settle in Detroit. For Calvin, it is the end of the road shared with his old friends, Robert Johnson and Johnny Shines who then leave Detroit to return to the South for the winter.
Calvin who has already a long musical experience becomes easily a favorite of the burgeoning Detroit blues scene, mostly around Hastings Street and Paradise Valley.
In October 1938, Alan Lomax who was on a recording hunt for local musical traditions from Wisconsin and Michigan (essentially people coming from the Balkans and Eastern Europe) hears about this Detroit bluesman who knew very well Robert Johnson. Lomax then records Frazier accompanied by Sampson Pittman, an old buddy from the South who also now lives in Detroit. Among the musical examples and spoken interviews made by Lomax we have only kept the ten "complete" (or almost) titles recorded during two days in October and November 1938. They are undoubtedly strong examples of a style very close to Robert Johnson's.
The following years, Calvin plays very often with almost every blues or R&B act in Detroit and his guitar playing is more and more "modern", very influenced by the rising Californian guitar stars like T-Bone Walker. While associated with Big Maceo, Calvin should have recorded in Chicago for the Bluebird label but quite ill this very day he is unable to do the trip! Maybe it would have changed the course of his career?
During 1946-47, Calvin tours with the Jungle Five Revue and plays his guitar licks up to New York and Montreal. He is also the lead guitarist of Baby Boy Warren, the T.J. Fowler's R&B band, the Jimmy Millner's Rhythm Band, teaches the guitar to Bobo Jenkins.... Early in 1954, he buys himself a Stratocaster, being certainly one of the very first bluesman to play this type of guitar.
Despite all this, Calvin records only sporadically under his own name and only for very small local Detroit or Toledo labels with poor distribution (Fortune, Alben, JVB...).
He dies at the young age of 57 from a massive heart attack on September 23d, 1972, a well respected musician, with a strong reputation among his peers but largely unknown outside a small group of blues buffs around the world.
We have been able to gather here and for the first time everything Calvin Frazier has recorded (two tracks waxed for Fortune with the Jimmy Milner's band have been now unearthed, see below and on my YouTube channel.). Thus we are able to appreciate fully the considerable talent of this very underrated guitarist, how he (like all of the few real Robert Johnson's close associates like Robert Jr Lockwood and Johnny Shines) has evolved from the "new" Delta blues of his Southern years to the jazzy and modern sounds of the late 40's and 1950's. Calvin and Johnson were so close musically that we only can imagine that Robert himself would certainly have followed the same path, if only he could have lived enough. --- Gérard Herzhaft, jukegh.blogspot.com
download (mp3 @320 kbs):
oboom yandex 4shared mega mediafire zalivalka cloudmailru uplea