Detroit Blues Masters Vol. 5 – Eddie Burns
Detroit Blues Masters Vol. 5 – Eddie Burns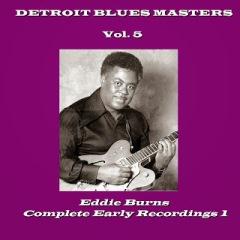 01. Papa's boogie
02. Bad woman blues (Notoriety woman)

Eddie Burns – vocals, harmonica
John T. Smith – guitar
Detroit, Mi. 1948

03. Making a fool out of me
04. Where did you stay last night?
05. Squeeze me baby

Eddie Burns – vocals, harmonica
John Lee Hooker – guitar
John T. Smith – guitar
Tom Whitehead – drums
Detroit, Mi. june 1951

06. Gangster blues
07. Grieving blues
08. Decoration day

Eddie Burns – vocals, harmonica
John T. Smith – guitar
John Lee Hooker – guitar
Tom Whitehead – drums
Detroit, Mi. November 1952

09. Hello Miss Jessie Lee
10. Dealing with the Devil

Eddie Burns – vocals, harmonica
Chuck Smith – piano
Percy Lee Brown – guitar
Washboard Willie - washboard
Detroit, Mi. december 1952

11. She keeps me guessing
12. Sittin' here wondering
13. I love to jump the boogie

Eddie Burns – vocals, harmonica, guitar
George Jackson – guitar
Charlie Mills – piano
Tom Whitehead – drums
Detroit, Mi. march 1953

14. I ain't cheatin'
15. Sunnyland blues

Eddie Burns – vocals, guitar
+ band
Detroit, Mi. september 1953

16. Superstition
17. Biscuit baking mama

Eddie Burns – vocals, harmonica
Percy Lee Brown – guitar
Bob Thurman – piano
Tom Whitehead – drums
Detroit, Mi. 1954

18. Treat me like I treat you
19. Don't cha leave me baby

Eddie Burns – vocals, guitar
Bob Thurman – piano
George Deloach - bass
Melvin Sims – drums
Detroit, Mi. 1957

20. Orange driver
21. Hard hearted woman

Eddie Burns – vocals, guitar
Aaron Willis – guitar
Robert White – guitar
Shorty Long – trumpet
Marvin Gaye – drums
Detroit, Mi. january 1961

22. The thing to do
23. Mean and evil baby
24. Messing with my bread

Eddie Burns – vocals, guitar, harmonica, horns
Joe Hunter or Harvey Fuqua – piano
Robert White – guitar, bass, drums
Detroit, Mi. may 1961

Born in Belzoni (Ms) on February 8th, 1928, Eddie Burns has been raised by his sharecropping grandparents. But he learned anyway from his father who was an itinerant singer and musician in several Southern medicine shows and who came to visit him regularly. Young Eddie fell under the spell of John Lee "Sonny Boy" Williamson's records - a lasting influence - and followed and learned also from several Mississippi bluesmen like Tommy Mc Clennan, Robert Petway and Tony Hollins.
At the end of the war, looking for a better life, Eddie moved North, first in Iowa and then in Detroit where he found a job as a mechanic. Very quickly, he became a favorite of the ebullient and burgeoning Detroit Blackbottom blues scene and his many clubs along Hastings Street. A very reliable musician and a fine gentleman, Eddie took a pivotal part in the local blues, befriended with most of the other Detroit bluesmen like John Lee Hooker, Baby Boy Warren, Bobo Jenkins, giving to all clubs and recordings opportunities. Eddie was also a wise adviser to promoters, clubs and labels owners like the famous Joe Von Battle.
Eddie recorded excellent tracks quite regularly in Detroit from 1948 to 1963 for several labels unfortunately without much commercial success. His music developed from a strict Williamson's carbon copy to much more modern blues sounds that featured more and more his lead guitar playing. There has even been a session for Harvey Fuqua's label that featured a young Marvin Gaye as a drummer!
He was hired to play lead guitar on John Lee Hooker's 1966 Chess album (The Real Folk Blues), recording two tracks under his name (one is still unissued!). But the late 1960's were very musical lean years for Eddie, the blues being then vastly ignored by young African Americans and the Detroit blues scene almost disappearing after the dramatic 1967 racial riots that literally burned down the Black Bottom. Anyway, after a significant appearance at the 1970 Detroit Blues festival where he even played a moving solo number a la Mc Clennan, Eddie Burns went to tour England in 1972, gaining more fame from appreciative audiences and recording in London his first album, Bottle up and go for the short-lived Action label. He would come back several times in Europe, waxing more albums for Big Bear or Black & Blue. At last, from 1989, he recorded albums in his home Country for Blue Suit and for Delmark (maybe his best with brother Jimmy Burns).
Eddie Burns, enjoying a strong local status, appeared regularly in Detroit until his death on December, 12th 2012. --- Gérard Herzhaft, jukegh.blogspot.com
download (mp3 @ kbs):
oboom yandex 4shared mega mediafire zalivalka cloudmailru uplea