Van Hunt - Blues At Home 1: Recorded In Memphis, Tennessee (1976-1978)
Van Hunt - Blues At Home 1: Recorded In Memphis, Tennessee (1976-1978) (2013)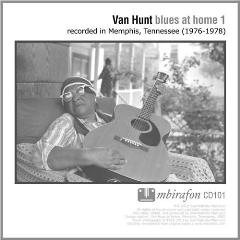 01. Sitting Here Drinking (Sweet Charlene & Mose Vinson) (3:39)
02. No More Dogging (Mose Vinson) (2:17)
03. Early in the Morning, About the Break of Day (Take 1) (Van Hunt & Mose Vinson) (4:33)
04. Early in the Morning, About the Break of Day (Take 2) (Van Hunt & Mose Vinson) (2:40)
05. Nobody's Business but Mine (2:18)
06. That's All Right (Sweet Charlene & Mose Vinson) (2:46)
07. Forty-Four Blues (Sweet Charlene & Mose Vinson) (2:02)
08. Tin Pan Alley (Sweet Charlene & Mose Vinson) (2:37)
09. Mississippi River Blues (Take 1) (2:13)
10. Don't the Moon Look Lonesome (Take 2) (Mose Vinson) (2:42)
11. Just a Closer Walk With Thee (Van Hunt & Mose Vinson) (2:13)
12. You Don't Need Me No More (Mose Vinson) (2:43)
13. I Never Knew What Love Would Do (Van Hunt & Mose Vinson) (3:27)
14. Long Lonesome Road (Van Hunt & Mose Vinson) (3:11)
15. Careless Love (Mose Vinson) (1:56)
16. Corinna, Corinna (Van Hunt & Mose Vinson) (2:27)
17. Old Blue Jumped a Rabbit (Take 1) (Mose Vinson) (2:32)
18. Old Blue Jumped a Rabbit (Take 2) (Mose Vinson) (2:53)
19. Pinetop's Boogie Woogie (Mose Vinson) (2:14)
20. The Darktown Strutters' Ball (Van Hunt & Mose Vinson) (2:06)
21. Crump and Jim Kinnane (1:13)
22. Jelly Selling Blues (Take 2) (Van Hunt & Mose Vinson) (2:25)
23. Troubled World (3:58)
24. Sunnyland Special (Van Hunt & Mose Vinson) (3:21)
25. Mose Vinson Discusses Old Blue Jumped a Rabbit (Mose Vinson) (1:30)
26. Mrs. Van Hunt Discusses Crump and Jim Kinnane (0:30)
27. Mrs. Van Hunt Discusses Bottleneck Technique (2:14)
28. Mrs. Van Hunt and Mrs. Ruth Ogilvie Discuss Repertoire (0:54)

Mbirafon presents its new "Blues At Home" CD Collection, with a wide range of artists and documents, that offer research-based, in-depth information for the public worldwide. With a sober and fluent design this new collection answers every demand of the modern blues audience who expect full usability with computers and mobile devices. Every volume has been carefully produced, giving listeners the all important confidence that the material featured is as high-quality as it is authentic.
On December 1972, with the help of the legendary harmonica player Hammie Nixon, using a professional portable equipment, I had the chance to start recording blues in Memphis. The documentary research continued in July 1976, ending in July 1982. A series of informal sessions was held during the course of my five trips through Tennessee, Mississippi, and Louisiana, featuring well known, but also little known, and unknown musicians. A collection of tapes and photographs was created and kept in my private archive. In order to preserve these materials I transferred to digital those I thought were best, and by 2013 the 15-volume "Blues At Home" CD Collection was ready for release.
The first volume of the Mbirafon "Blues At Home" Collection, this CD features one of the most intense voices of the blues, Van Zula Carter Hunt. This central figure in the Memphis blues scene was born in 1901 in Somerville, Tennessee, but spent her whole life in Memphis, where she was living on South 4th Street when I met her in 1976. She started singing and playing at age five, performing with her brother and cousins in a group called Somerville Family Band. Around the late 1910s, she moved to Memphis and began her professional musical activity, traveling for several years with minstrel shows. She played with local blues artists such as Sleepy John Estes, Frank Stokes, Gus Cannon, and Memphis Minnie. In November 1930, she recorded "Selling The Jelly" (issued under the name of the Carolina Peanut Boys) in Memphis for Victor Records. She also recorded some gospel sides as a chorus member with Rev. E.D. Campbell for Victor in 1927. Van Hunt was rediscovered, through the referral of Dewey Corley, by Gene Rosenthal, who recorded her for the Adelphi label in 1969-1970.
Mose Vinson was born in Holly Springs, Mississippi, in 1917. He learned how to play the piano at the age of five from his mother, who played the organ at church. His father, also a musician and a piano player, taught him his first musical elements and some early blues. Vinson started playing in public in 1932 around the age of 15 and was spotted for his talent by some white managers in 1936. He studied and learned to read music, and joined a band in Nashville for six years. He recalled leaving Holly Springs at an early age and traveling in the areas of Mississippi, Tennessee, and Arkansas, reaching Memphis in 1945, where he lived for the rest of his life. While in Memphis, Mose's piano style was influenced by several musicians, mostly active in local cabarets and nightclubs where he gained some of his musical experience. He also performed during those years with B.B. King for black audiences, recalling Memphis Slim and Walter Davis as well. During the '50s, he recorded for several labels, including Sun Records, with Joe Hill Louis and Jimmy De Berry. Mose Vinson stopped playing at clubs around 1962, and in 1969-1970 was rediscovered and recorded by Gene Rosenthal for Adelphi Records. One of the best-known and respected Memphis piano blues players, he performed in the River City and abroad until his death in 2002 at age 85.
Van Hunt's daughter Sweet Charlene Peeples was born in Memphis, Tennessee, in 1936. She received her musical training mainly in church vocal groups and during the late 1940s and 1950s in local nightclubs. She performed professionally on several Memphis stages. A very reserved person, Charlene stopped her musical activities during the early 1970s, although she made a few public appearances in 1971 at both the River City Blues Festival and the Wolf Trap National Park Festival in Virginia, and at the Beale Street Music Festival in 1979. In 1976 and 1978, I had the chance to record various sessions with Mose Vinson, Van Hunt, and Sweet Charlene. This CD features four examples of Van Hunt on vocal and guitar, and various tracks accompanied by Mose Vinson's piano. There are also blues and boogie solos by Mose Vinson plus four pieces sung by Sweet Charlene with his piano accompaniment. All tracks have been fully digitally remastered in 2013 from the original tapes. ---Giambattista Marcucci, cdbaby.com
download (mp3 @ kbs):
uploaded yandex 4shared mega mediafire zalivalka cloudmailru oboom uplea