Doctor Clayton & His Buddy - Pearl Harbour Blues (1970)
Doctor Clayton & His Buddy - Pearl Harbour Blues (1970)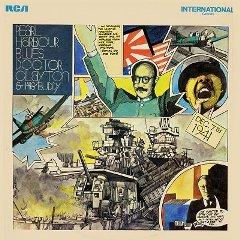 A1 	My Own Blues 	
A2 	Moonshine Women Blues 	
A3 	Pearl Harbor Blues 	
A4 	Ain't No Business We Can Do 	
A5 	I Need My Baby 	
A6 	Ain't Gonna Drink No More 	
A7 	Root Doctor Blues 	
A8 	Copper Colored Mam 	
B1 	Farwell Little Girl 	
B2 	Broke And Hungry 	
B3 	Illinois Central 	
B4 	Nappy Head Woman 	
B5 	Across The Hall Blues 	
B6 	Walking With The Blues 	
B7 	Sweet Lucy Blues 	
B8 	No Whiskey Blues

Doctor Clayton, Sunnyland Slim – vocals
Big Bill Broonzy, Willie Lacey – guitar
Alfred Elkins – bass
Blind John Davis – piano
Ransom Knowling – tuba
Judge Riley – drums

Doctor Clayton was an American blues singer and songwriter who performed barefoot, wearing comically large, round glasses.
Peter Joe Clayton was born in Georgia on April 19, 1898 (although he later claimed he had been born in Africa), and moved to St. Louis as a child with his family. He had four children of his own and worked in a factory in St. Louis, while starting his career as a singer. He could also play piano and ukelele, although he never did so on record.
Doctor Clayton recorded six sides for Bluebird Records in 1935, but only two of those were ever issued. His family all died in a house fire in 1937, after which Clayton became an alcoholic and began wearing oversized hats and glasses. Moving to Chicago with Robert Lockwood, Jr., he received attention from Decca Records, but ultimately returned to Bluebird, recording with them again in 1941-42. He also recorded for Okeh Records at this time.
Among the songs Clayton wrote were "Cheating And Lying Blues," frequently covered by other blues artists, "Pearl Harbor Blues," written after the Pearl Harbor bombing of 1941, and "Moonshine Woman Blues," which became a chart hit for B.B. King as "The Woman I Love" in 1968. In 1946, he recorded the tunes "Hold That Train Conductor" and "I Need My Baby," which were also both covered by King. Most of his later recordings featured Blind John Davis on piano. He was a regional sales success and played regularly in Chicago nightclubs with Lockwood and Sunnyland Slim.
Doctor Clayton died of tuberculosis on January 7, 1947, shortly after his second recording session. Big Bill Broonzy and Tampa Red attended his funeral. --- dontaskmeidontknow.blogspot.com
download: uploaded yandex 4shared mediafire solidfiles mega zalivalka cloudmailru filecloudio anonfiles oboom