Big Apple Blues - Brooklyn Blues (2010)
Big Apple Blues - Brooklyn Blues (2010)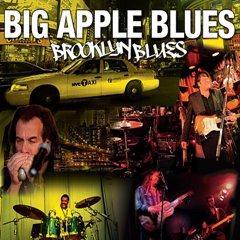 1 You'll Come Back Someday 04:48
2 Killing' Time 03:31
3 Like It or Not 04:46
4 Let's Ride Baby 05:04
5 I Make My Home in Florida 06:48
6 Don't Throw Our Love Away 06:45
7 Help Me Just This Time 06:30
8 You Move Too Slow 08:56 (Larry Ingram, Spider Ingram)
9 Boogie Shack 07:50

Joe Bencomo - Drums
Sonny Charles - Harmonica (Amplified), Vocals
Eddie St. Clair - Bass Guitar
Spider Ingram - Guitar, Slide Guitar, Vocals
Little Johnny Walter - Guitar (Rhythm), Vocals (Background) 

Big Apple Blues came by this vintage sound honestly. They put down tracks for Brooklyn Blues in an old hometown studio, Excello Recording, playing live before analog equipment on throwback instruments. Then they picked out a series of cuts by giants of the genre.
Included on this Stone Tone release are covers of songs by Chess Records legends like Howlin' Wolf and Willie Dixon, as well as tracks by a pair of former Muddy Waters harmonica-playing sidemen in Little Walter and Junior Wells. Big Apple Blues also tosses in a couple of Big Easy classics by Dave Bartholomew, including the Fats Domino staple "Whole Lotta Lovin,'" and songs by Big Joe Turner and Paul Butterfield, as well.
That gives this warm vibrancy to Brooklyn Blues, which smartly mimics the densely spacious sound of those original masters. You quickly sense that this group's high fidelity goes beyond the studio technology; Big Apple Blues displays a lasting faith in the music's tradition.
Guitarist Zach Zunis opens the record with a dirty, barstool-rattling guitar groove on "Too Many Drivers," while Anthony Kane (pictured at left) puts on a shimmying show with his harmonica. Kane's gravelly growl is perfect for Butterfield's well-crafted lyric on betrayal. A saddle-buck cool surrounds their rollicking interpretation of Turner's largely ad-libbed 1953 Top 25 hit "Honey Hush," which swings along like a lost Sun Records side. Christine Santelli and Matt Mousseau join in the raucous sing-along at the end.
Big Apple Blues doesn't often move off script but, when they do, it's a wonder: For instance, they brilliantly rework "Whole Lotta Lovin," originally an up-tempo 1958 pop parfait by Fats Domino, into a loping shout. They go even deeper into the brown-bottle blues on "I Hear You Knockin,'" initially sent to No. 2 on the R&B charts in 1955 by Gale Storm.
On the original "Brooklyn Swamp," written by Zunis, Big Apple Blues jukes expectations with a New Orleans vibe. Zunis explores a mercurial, echoing sound while drummer Barry "The Baron of the Blues" Harrison (Shemekia Copeland) underscores everything with a second-line beat.
More typical, however, is "Who's On Third (Duvel)," this album's only other original. The track, locomotive but instantly familiar, finds author Kane trading licks with guest pianist Brian Mitchell (Bob Dylan, Al Green, B.B. King, Levon Helm, Allen Toussaint), who also appears on "Whole Lotta Lovin.'" Kane's aching vocal on Howlin' Wolf's seminal 1951 Chess classic "How Many More Years" opens the door for a sizzling, explorative solo turn by Zunis.
Kane then retakes center stage during a trio of showcase opportunities that arrive back to back to back on Brooklyn Blues. First, there's Wells' "It's My Life Baby" and then Little Walter's "Hate to See You Go," both from the late 1960s, followed by Walter's determined 1959 Top 25 R&B hit "Everything is Gonna Be Alright." Kane completely inhabits Little Walter's style, this crisp, cocksure sound that shaped the modern vocabulary for harmonica. Then Kane neatly approximates Junior Well's randy growl on "It's My Life Baby."
Big Apple Blues closes with the Diddley wallop of Dixon's ironically named 1954 side "Mellow Down Easy," eventually made famous by Little Walter, as well. ---Nick DeRiso, somethingelsereviews.com
download (mp3 @320 kbs):
yandex mediafire ulozto gett bayfiles