LZ Love & Lightnin' Red - Blues Family (2013)
LZ Love & Lightnin' Red - Blues Family (2013)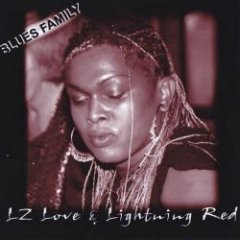 01. Stand For Something - 4:55
02. Let The Spirit - 3:49
03. Dancin' With The Blues - 4:59
04. Big Time - 5:52
05. Change Is Gonna Come - 4:40
06. Cavern Crawl - 3:25
07. Don't Have To Worry - 5:43
08. Got The Power - 4:29
09. South Austin Shuffle - 2:37
10. Hard To Have The Blues - 4:16
11. Been Lonely - 5:42
12. Devil In You - 4:58
13. Backyard Boogie - 3:42
14. Shoulda Listened - 4:05
15. Trials - 2:18

LZ Love – vocals, percussion
Lightnin' Red – vocals, guitar
Kreso Oremus – harp
Nerea Rudic – bass
Tom Dievock – drums

When LZ LOVE & LIGHTNIN, RED began their 2010 European tour with backing musicians from Croatia and Germany, they didn't anticipate anything beyond a few weeks performing to enthusiastic crowds and adding many fans. But with each new festival and concert performance, it became obvious that something magical was happening. Strong friendships were forming and great music was being created.
Recording sessions were set up in Split, Croatia and plans drawn up to form a world class band. Due to contractual obligations with industry folks in London, Peco Pete was unable to join or record with the new Blues Family. With studio tracs in hand, the entourage headed to Germany to enlist the award winning drumming talent of Tom Diewock. German legend Ray Frick added vocal tracs to the emerging album of original songs and stands at the helm as executive producer.
LZ LOVE
As so many great American singers have, LZ began singing gospel in a southern church…at age five. Having sung and toured with a long list of icons including Mary Wells, Joan Armatrading, Billy Preston (the 5th Beatle), Parliament Funkadelic, Luther Vandross and Stephen Marley, her credentials are impressive.
A favorite of Tommy Castro and Michael Fronti, her voice appears on their releases, as does theirs on hers. LZ Love's solo career began in 1995 when her song Lift Me Up reached number two on the European dance charts.
In 2001, her song Been Lonely from the debut album ONE' became a favorite on the San Francisco scene and was released on 'San Francisco Bay's Best Blues' by Epitaph. In 2003 her acclaimed CD 'Standing Wide-legged & Proud' appeared, and 2006 saw her doing supporting vocals on Lightnin' Red's first acoustic release. The duo LZ Love & Lightning Red recording 'Gut Bucket Blues' soon followed, and has garnered wide acclaim and international touring.
Together they toured Europe in 2010 with appearances at the Rapperswil & Zofingen Festivals near Zurich, as well as concerts in Switzerland, Croatia and Germany. Chosen to close the Rapperswil Blues 'n' Jazz Festival, they performed to a crowd of nearly 10,000. enthusiastic fans, and LZ Love continues to release great albums and wow her loyal fans.
LIGHTNIN' RED
As a 3 year old, the legendary Chicago area bluesman Lightnin' Red would sit directly in front of the saxophone sections of Count Basie, Jimmy Dorsey, Duke Ellington and all the other Big Bands playing the military base circuit that included Fort Leonard Wood.
After being mentored by Luther Allison and soaking up the sounds of Buddy Guy, Otis Rush, Mike Bloomfield, B.B. King, Johnny Winter and other greats, Red began touring the Midwest and Canada, and in 1976 Austin, Texas became his home and touring base. It was here that his patented TEXICAGO sound sprung from rubbing elbows with names like Willie Nelson, Omar Dykes, Marsha Ball, WC Clark, Kim Wilson, Jimmie and Stevie Ray Vaughan.
He's played the Rapperswil Blues'n'Jazz Festival in Switzerland, appeared at concerts and festivals throughout central Europe, done the Bayfront Blues Festival, the Monterey Bay Blues Festival, the Eureka Springs Blues Festival, the Santiago Shakedown 7, the House of Blues and countless concerts throughout North America.
Previously Lightnin' has toured Australia, Scandinavia and Great Britain repeatedly, with two consecutive appearances at The Great British R&B Festival, did radio appearances in Spain, and was interviewed on national Radio New Zealand after being featured at the Whangarei Jazz and Blues Festival. Having begun his European adventures touring Denmark, Red's latest releases and concerts are getting rave reviews in Europe and worldwide airplay. --- cdbaby.com
download: uploaded yandex 4shared mediafire solidfiles mega zalivalka filecloudio anonfiles oboom ziddu
Last Updated (Sunday, 27 April 2014 20:14)