Ilana Katz Katz - I've Got Something To Tell You (2014)
Ilana Katz Katz - I've Got Something To Tell You (2014)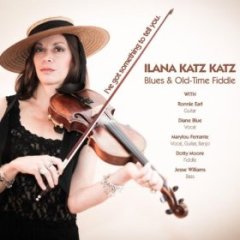 01. Marlyn's Blues (Feat. Ronnie Earl & Jesse Williams) (3:40)
02. She's Long She's Tall (She Weeps Like A Willow Tree) (Feat. Ronnie Earl & Jesse Williams) (3:31)
03. Cruel Willie Blues (Feat. Marylou Ferrante) (2:52)
04. Take A Little Walk With Me (Feat. Ronnie Earl, Jesse Williams & Diane Blue) (5:50)
05. Old Medeira Waltz (Feat. Dotty Moore & Jesse Williams) (2:49)
06. Shove The Pig's Foot A Little Further In The Fire (Feat. Dotty Moore) (3:03)
07. Pb Cracker Blues (Feat. Jesse Williams & Ronnie Earl) (2:52)
08. Conan's Farewell (Feat. Marylou Ferrante) (2:30)
09. Runnin' In Peace (Feat. Jesse Williams, Ronnie Earl & Diane Blue) (4:07)
10. Johnny, Don't Get Drunk (Feat. Marylou Ferrante) (2:18)
11. Ain't Nothin' In Ramblin' (Feat. Marylou Ferrante) (3:17)
12. Frisco Town (Feat. Marylou Ferrante) (3:27)
13. Piney Ridge (2:05)

Ilana Katz – fiddle, vocals
Ronnie Earl – guitar
Diane Blues – vocals
Marylou Ferrante – guitar, banjo, vocals
Dotty Moore – fiddle
Jess Williams - bass

"I've Got Something To Tell You" showcase's Ilana Katz Katz's unique improvisational blues fiddling alongside a collaborative, well-chosen group of accompanists. Ilana brings new life to the blues from an uncommonly heard source in the modern blues: the violin or "the fiddle" as Ilana likes to call it. This is a must-have record for any blues lover, especially those Ronnie Earl fans who will hear those definitive Earl licks alongside the fiddle, in this unusually refreshing recording.
Ilana's passionate bluesy style fits perfectly alongside Ronnie Earl's unmistakable masterful guitar playing on their instrumental numbers. It makes you wonder why you don't hear more violin with the blues. Those bended notes on the violin tear at your heart, making you want more. On the tracks that feature the soulful Diane Blue on vocals, alongside Jesse Williams on bass, you'll be glad to hit the repeat button. Diane digs deep when singing the cover of Robert Lockwood's 'Take a Little Walk With Me' alongside Ilana's bluesy fiddling and Earl's stunning licks. But Diane isn't the only singer on this record as Ilana's heartfelt vocals on John Lee Hooker's 'Willow Tree' work well alongside Ronnie Earl's foot-tapping low-end blues.
And that's only half of what you'll hear on this record.
There are Memphis Minnie cover tunes sung by Marylou Ferrante whose skillful acoustic blues guitar, intertwined with Ilana's blues licks, will make you appreciate this old-timey blues duet style. Marylou's voice, featured on two Memphis Minnie numbers, is both strong and beautiful. Ilana and Marylou also play two instrumentals. The first is a slow blues tune called "Cruel Willie Blues" and the other is a more upbeat old-timey number that offers the old-timey fiddle/banjo combination – again with Ilana's bluesy undertones on an Appalachian traditional called 'Johnny, Don't Get Drunk.'
But there's one more pairing that is at least as good as the rest and fits well with the mix. The lush twin fiddles of Ilana and the wonderful Dotty Moore is a beautiful treat. There's the "Old Medeira Waltz" that is filled with harmonies that sound like magic. Ilana even manages to sneak her blue notes – tastefully – into those tracks. And it works. Jesse William's bass adds the perfect touch to round out this track. Dotty accompanies Ilana on yet another fiddle tune, much more driving, but no less harmonious.
The record ends with Ilana playing in an altered violin tuning that brings the instrument down low. It's a solo version of the traditional 'Piney Ridge.' Ilana's own ending to this song is a nice cap to the story that this record tells. –cdbaby.com
download (mp3 @320 kbs):
yandex mediafire ulozto gett solidfiles
Last Updated (Thursday, 18 February 2021 15:11)