Jo Harman - People We Become (2017)
Jo Harman - People We Become (2017)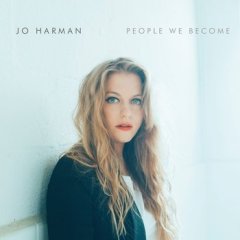 01. No One Left to Blame 
02. Silhouettes of You 
03. Lend Me Your Love 
04. Unchanged and Alone 
05. The Reformation 
06. Changing of the Guard 
07. Person of Interest 
08. When We Were Young 
09. The Final Page  
10. Lonely Like Me  
11. When We Were Young (Bonus Track)

So who the hell is Jo Harman? Her 2013 debut album Dirt On My Tongue blended rock, soul, blues and jazz with a maturity way beyond her tender years. Get Ready To ROCK!'s Pete Feenstra described it as a surprisingly mature a 'after hours' album 'tied up with her evocative phrasing, pristine diction and a husky voice that swamps the lyrics in honey'.
She might hail from Devon, but Harman's musical roots lie many thousands of miles away across the Atlantic in the blues and soul of the Deep South of the US of A. Her gospel soulfulness reminds of Anita Baker, her pop sensibilities of Annie Lennox, and her mainstream singer songwriter appeal of Sarah McLachlan. Benchmarks Harman clears with seeming ease.
My issue with both her debut, and People We Become, is that she doesn't emerge with any clear self-identity or direction.
But by Harman's own admission she's not trying to fit in anywhere, but "trying to write classic songs, and present them with classic production. When you try to chase what's going on at the moment, then it's going to sound old very quickly."
In that sense, People We Become is mission achieved – an exquisite album rooted in the classic, timeless music of past generations (Julia Fordham, in particular, springs to mind), and quite possibly the finest female blue eyed soul vocal performance you'll hear this year.
But there's a certain irony that its primary appeal will lie with a generation who are most likely now grandparents, food shop at M&S, and whose annual holiday plans will include at least one cruise. A facet magnified by a cameo appearance by Michael McDonald – the man whose soulfulness drained the Doobie Brothers of their own.
But, if you like your waffles served with a large dollop of maple syrup (as opposed to bacon and grits), and Michael McDonald at the 'Albert' is on your bucket list, People We Become will not disappoint. ---Ash Wilson, getreadytorock.me.uk
download (mp3 @320 kbs):
yandex 4shared mega mediafire uloz.to cloudmailru uptobox ge.tt