Dana Fuchs - Bliss Avenue (2013)
Dana Fuchs - Bliss Avenue (2013)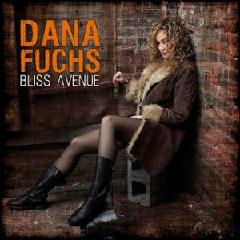 01 – Bliss Avenue
02 – How Did Things Get This Way
03 – Handful Too many
04 – Livin' on Sunday
05 – So Hard to Move
06 – Daddy's Little Girl
07 – Rodents in the Attic
08 – Baby loves the Life
09 – Nothin' on My Mind
10 – Keep on Walkin'
11 – Vagabond Wind
12 – Long Long Game

Musicians:
Dana Fuchs (Vocals);
Jon Diamond (Guitar); 
Jack Daley (Bass); 
Shawn Pelton (Drums); 
Glenn Patascha (Keys).

Dana Fuchs is one of the great singers working in Blues, Rock or any other genre working with a controlled power and a broad dynamic range that brings to mind such 'one name only needed' vocalists such as Janis, Etta, Nico or Big Mama. (All right, so Big Mama is two names, but you understand the point.)
Ever since her star turn as Sexy Sadie in the film, Across the Universe, musically the songs that usually come to mind in Dana Fuchs' repertoire have been covers. Besides The Beatles, she is also a nonpareil interpreter of Zeppelin, Etta James and the Janis Joplin canon. With Bliss Avenue, her first album in two years, now she and collaborator Jon Diamond have also joined the ranks of the top songwriting teams. The lyrics are mostly written by Fuchs, with Diamond supplying the music.
Just how good or great an album is Bliss Avenue? A suggestion: The mean and dirty streets of Manhattan have been the setting for many a great novel and movie, with Urban Cowboy perhaps the greatest of the latter. Yet New York's nasty side it has been wickedly hard to capture in music. There are only two albums that have really nailed the strange oil and water mix of hope and desperation that marks the alleyways in the streets well off Broadway: Lou Reed's classic New York; and now Bliss Avenue.
These are the songs of survivors who survive because, like Kris Kristofferson's Bobby McGee, they've got nothing else to lose. Indeed, the unnamed woman who goes from party to party with 'hairy eyes, last night's make-up running down' in "Baby Loves the Life" could be Kristofferson's hitchhiker who finally wound up in New York to find, well to find not much at all. But on she goes, singing 'lalalalalala' at the song's close, laughing her way to Babylon. ---Hubert O'Hearn, americanbluesscene.com
download:  uploaded anonfiles mega 4shared mixturecloud yandex mediafire ziddu