James Cotton, Billy Branch, Charlie Musselwhite, Sugar Ray Norcia – Superharps (1999)
James Cotton, Billy Branch, Charlie Musselwhite, Sugar Ray Norcia – Superharps (1999)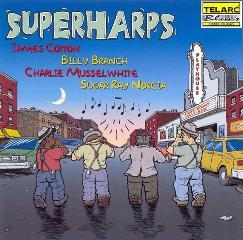 •	I Put My Baby Out 
•	The Hucklebuck 
•	Blues, Why Do You Worry Me? 
•	Life Will Be Better 
•	Mean Little Mama 
•	T.D.'s Boogie Woogie 
•	If I Should Have Bad Luck 
•	I'm Gonna Steal Your Baby 
•	Route 66 
•	You're So Fine 
•	Harp To Harp 

Musicians:
Billy Branch (harmonica); 
James Cotton (harmonica); 
Charlie Musselwhite (harmonica);
Sugar Ray Norcia (harmonica);
Kid Bangham (guitar); 
Anthony Geraci (piano); 
Per Hanson (drums); 
David Maxwell (piano); 
Michael Ward (bass).

Four great blues harmonica players (James Cotton, Billy Branch, Charlie Musselwhite, and Sugar Ray Norcia) are featured in various combinations on this spirited disc, backed by a four-piece rhythm section (with guitarist Kid Bangham and pianist Anthony Geraci). Cotton and Norcia have solo pieces, seven numbers feature two harmonicas, and the lengthy low-down blues "Harp to Harp" has all four of the harmonica players taking turns soloing. Much of the material is jazz-oriented, including "The Hucklebuck," "TD's Boogie Woogie," and "Route 66," and the majority of the selections are instrumentals. Each of the harmonica players sounds inspired and the results are consistently exciting and swinging. – Scott Yanow, Rovi
download:  uploaded ziddu 4shared yandex mediafire hostuje
Last Updated (Thursday, 04 April 2013 20:23)