Karen Lovely - Still The Rain (2010)
Karen Lovely - Still The Rain (2010)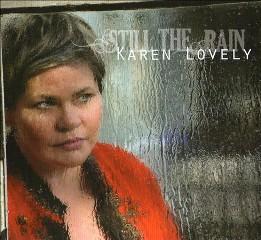 1	Blues Ain't Far Behind	3:47		
2	Sunny Weather	4:11		
3	Still the Rain	5:11		
4	Cold Man Cold	4:06		
5	Other Plans	3:50		
6	Ask Your Heart	3:30		
7	Full Time Job	5:52		
8	Glad You're Gone	4:31		
9	Never Felt No Blues	5:10		
10	I've Had Enough	5:12		
11	Older Fool	4:26		
12	Knock Knock	5:10		
13	So Willing	5:07	

Karen Lovely - vocals
Dawwg House Rhythm Section:
Lee Spath - Drums
Richard Cousin - Bass
Jim Pugh - B-3, Keys
Alan Mirkitani - Guitar, Lead Guitar
Michael Vannice - Tenor Sax

Oregon's Karen Lovely certainly established herself as a blueswoman of note with her rousing Pretty Pear CD Lucky Girl while coming within a hare's breath of winning the 2010 International Blues Challenge in Memphis.
Now she broadens her credentials with a masterful follow up, Still The Rain, that should appeal not only to her legion of fans who hear her on SiriusXM satellite radio and many alternative FM and Internet outlets throughout the country, but to a whole new audience with some different material.
Oh sure, Still The Rain has some rousing uptempo blues tunes like Blues Ain't Far Behind, Cold Man Cold, and Ask Your Heart, that feature Lovely's big, lusty voice, plus a vampy jump blues Older Fool with some muscular tenor sax by Michael Vannice of the Dawwg House Rhythm Section.
But it's the ballad cuts that really make this CD so special and appealing, where Karen Lovely throws the glove down and shows us her tender and emotional side. The title tune, Still The Rain, is absolutely dark, emotional, and foreboding, while Karen will make you shiver as her voice drips with sadness on Other Plans accompanied by Vannice's haunting tenor. Veteran Producer Dennis Walker has definitely brought out the best in Karen Lovely on Still The Rain. --- Sunshine Dennis, cdbaby.com
download:   uploaded ziddu gett 4shared divshare mediafire
Last Updated (Saturday, 02 February 2013 17:51)