J.J. Cale – Troubadour (1976)
J.J. Cale – Troubadour (1976)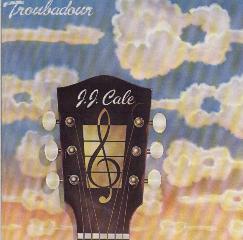 01. Hey Baby (3:13)
02. Travelin' Light (2:51)
03. You Got Something (4:01)
04. Ride Me High (3:35)
05. Hold On (1:59)
06. Cocaine (2:50)
07. I'm A Gypsy Man (2:43)
08. The Woman That Got Away (2:53)
09. Super Blue (2:42)
10. Let Me Do It To You (3:00)
11. Cherry (3:22)
12. You Got Me On So Bad (3:18)

J.J. Cale - Guitar, Piano, Vocals
Billy Puett - Saxophone
Dennis Good - Trombone
Buddy Emmons - Steel Guitar
Gordon Payne - Guitar
Reggie Young - Guitar
Bill Boazman - Guitar
Harold Bradley - Guitar
Chuck Browning - Guitar, Drums
Bill Pursell - Keyboards
Don Tweedy - Keyboards
Bobby Wood - Keyboards
Tommy Cogbill - Bass
Joe Osborne - Bass
Bill Raffenspeger - Bass
Charles Dungey - Bass
Kenny Buttrey - Drums
Farrell Morris - Drums, Vocals
Buddy Harmon - Drums
Karl Himmel - Drums
Jim Karstein - Drums
Kenny Malone - Drums
Jerry Allison - Percussion
Audie Ashworth - Percussion
Gary S. "Flip" Paxton – Vocals

An understated, rich, rewarding gem that no one's ever heard. Unfortunately, since few blues fans venture outside the tried-and-true territory of old black men rocking the house Chicago style or young guns with a Hendrix complex serving up monster Texas floods, Cale's druggy brand of rhythmic, spooky storytelling falls far outside of easy characterization.
It's too bad, because Cale's rambling snapshots of love and life on the road are unconventionally addicting. While at times it gets so loose it threatens to fall apart, Cale's sparse style is oddly satisfying -- never has less been more.
All of the songs on Troubadour are outstanding. The now warhorse "Cocaine" is far more intriguing in its original version, more menacing and worldworn than Clapton's driving take. The uncharacteristically energetic "Travelin' Light" is a whispered invitation to road, half intrigue, half warning. The album's highlight, "Cheri," Cale's tender, perhaps futile plea for love, is hauntingly gorgeous.
Cale, much like Nick Drake and Alex Chilton, is an artist whose genius and influence far outweighs his popularity. Sit back and sink in to this simply wonderful disc. ---James Burke, amazon.com
download (mp3 @320 kbs):
yandex 4shared mediafire ulozto gett solidfiles
Last Updated (Tuesday, 23 February 2021 08:30)