Janiva Magness ‎– What Love Will Do (2008)
Janiva Magness ‎– What Love Will Do (2008)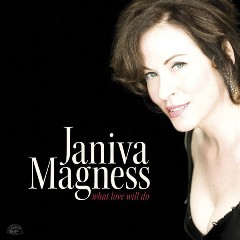 1 	That's What Love Will Make You Do 	3:22
2 	I Want A Love 	3:46
3 	I'm Glad You're Mine 	3:26
4 	Bitter Pill 	4:08
5 	Fool Me Again 	3:43
6 	Get It. Get It 	4:17
7 	One Heartache Too Late 	4:36
8 	You Sound Pretty Good 	2:27
9 	I Dont Want You On My Mind 	4:06
10 	Don't Do It 	2:56
11 	I Won't Be Around 	3:58
12 	Freedom Is Just Beoynd The Door 	3:26
13 	Sometimes You Got To Gamble 	3:59

Julie Christensen 	Vocals (Background)
Brie Darling 	Percussion, Vocals (Background)
Dave Darling 	Bass, Engineer, Guitar, Handclapping, Mixing, Percussion, Producer, Vocals (Background)
Donny Gerrard 	Vocals (Background)
Justin Guarini 	Choir/Chorus
Stephen Hodges 	Drums, Handclapping, Percussion
Janiva Magness 	Handclapping, Primary Artist, Producer, Vocals (Background)
Mark Philpart 	Vocals (Background)
Arlan Schierbaum 	Clavinet, Keyboards, Organ (Hammond), Wurlitzer
Lee Thornburg 	Horn, Trombone, Trumpet
Jeff Big Dad Turmes 	Banjo, Bass, Composer, Guitar, Handclapping, Horn, Sax (Baritone), Sax (Tenor)
Michael "Junior" Watson 	Guitar
John Whynot 	Keyboards, Piano
Benny Yee 	Keyboards
Red Young 	Keyboards, Organ (Hammond), Wurlitzer 

After over a decade of hard labor in the blues trenches, Janiva Magness finally gets a shot at the brass ring with her debut Alligator release. Six increasingly accomplished albums provided the studio experience in crafting her music for maximum dynamics, and the results show on this rollicking set of blues and R&B that kicks off with the Little Milton penned title track. As usual Magness finds terrific, generally obscure material, digging deep to unearth gems such as Teresa James' "I Want a Love" and even Annie Lennox's "Bitter Pill," an unusual choice on the surface but one that perfectly captures Magness' tougher edge. With more time and a larger budget, these songs are fleshed out with horns, organ, and background vocals. While that makes for a bigger production and a more immediate sound, Magness' magnificent voice occasionally gets lost in the mix. That's the case on upbeat tracks such as her version of an Ike Turner rarity "Get It, Get It," which features three guitars and brass. Ditto for a seemingly rushed version of Marvin Gaye's "Don't Do It" that might have sounded like a good idea on paper, but never catches fire because her vocals fight for attention in a somewhat cluttered mix. That's about the only downside for an album that delivers what anyone who has seen Magness live will love. She rips into ballads such as Gary Nicholson's Memphis-styled "Fool Me Again" with tenacity, and the stripped down arrangement allows her to bring a gritty emotional edge that Delbert McClinton, who could be considered the male counterpart to Magness, creates so effectively. Husband/multi-instrumentalist/songwriter Jeff Turmes' material, including "Sometimes You Got to Gamble," a ballad sung against his gospel piano and sparse bass, is moving and riveting. Another Turmes original "You Sound Pretty Good" brings a peppy New Orleans-styled horn arrangement and banjo to one of this disc's highlights. Bill Withers' "I Don't Want You on My Mind" gets down to its swampy soul in a cool, crawling arrangement featuring a slicing Turmes guitar solo. Earl Thomas' "I Won't Be Around" frames Magness' voice in a stark, near musical silence that allows her to tear into its emotional center. Although she's no newcomer, many might be exposed to Janiva Magness through this album due to Alligator's marketing and distribution muscle. It's a great place to start enjoying a veteran performer who burns through these songs like she's got everything to prove. ---Hal Horowitz, AllMusic Review
Artystów można podzielić na trzy grupy. Zaliczamy tu tych, którzy w swoich zespołach postawili na wartości instrumentalne, nie przejmując się wokalnym niedomaganiem lidera. Są także tacy, co skupili się na sile wokalnej oraz ci, którzy starali się dopieścić należycie wszystkie elementy. Do drugiej grupy zaliczyć należy Janivę Magness, a jej ostatnia płyta potwierdza tylko wcześniej obraną drogę.
"The Devil is an Angel Too" to drugi z kolei album artystki, wydany przez popularną wytwórnię Alligator. Zawarto na nim dwanaście utworów, będących kontynuacją pomysłów z płyty "What Love Will Do", która odniosła sukces dwa lata wcześniej. Podobnie jak tam, tak i tu na pierwszym planie postawiony jest nienaganny wokal artystki, a tło stanowi nienachalny, acz w pełni profesjonalnie przygrywający zespół.
Profesjonalny, choć mało urozmaicony, za to opatrzony należytym groove'em, podkład stanowi idealne tło dla wokalnych popisów wokalistki. Nie znajdziemy tu długich solówek na instrumentach, ale też poszukiwanie ich byłoby bezcelowe. Janiva Magness stara się w swoim stylu ugryźć kanon muzyki soul i r&b podając wszystko z lekkością zarezerwowaną zwykle dla muzyki pop. W niektórych kawałkach można wyczuć trywialne melodie, choć utwory i tak wydają się różnorodne, jak na dość oklepane już schematy wykorzystane na albumie.
Bez cienia najmniejszej wątpliwości wokal Janivy Magness zasługuje na najwyższe odznaczenia. Jest on ciepły, podrasowany delikatnym, lecz na szczęście niewymuszonym piaskiem, co nadaje mu dodatkowego charakteru. Jest bardzo głęboki, pozbawiony jakiejkolwiek maniery, klarowny i wyrazisty we wszystkich pasmach.
Album "The Devil is an Angel Too" powinien znaleźć się na półce każdego fana dobrego, kobiecego wokalu. Janiva Magness dzięki niemu podtrzymuje wyrobioną przez siebie markę, zaliczając się tym samym do grona najlepszych białych wokalistek w swoim gatunku. ---Kuba Chmiel, magazyngitarzysta.pl
download (mp3 @320 kbs):
yandex mediafire ulozto gett solidfiles
Last Updated (Friday, 26 February 2021 10:39)