Mojo Buford - Champagne & Reefer (1999)
Mojo Buford - Champagne & Reefer (1999)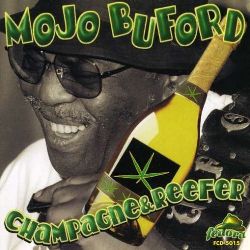 01. Champagne & Reefer. 4:36			play
02. Introduction By Bob Margolin. 1:02
03. Blow Wind Blow. 4:56
04. Long Distance Call. 4:14
05. Rollin' And Tumblin'. 3:24
06. Wee Wee Baby. 4:54
07. Birdnest On The Ground. 5:43
08. Don't Go No Further. 2:46
09. My Own Fault Darling. 6:09
10. You're Gonna Drive Me Away. 7:24
11. Honey Bee. 4:08
12. Nine Below Zero. 3:22			play
13. Big Leg Woman. 4:03

Personnel:
------
George "Mojo" Buford (vocals, harmonica)
Bob Margolin, Johnny Rapp (guitar)
Paul Thomas (bass)
Chico Chism (drums)

If you don't know Mojo Buford, you are in for a real treat. Mojo, of course, was one of the standout harp players for Muddy Water's and, on this set, he is joined by fellow Waters band member, Bob Margolin on guitar as well as Phoenix-based musicians, Chico Chism on drums, Paul Thomas on bass and Johnny Rapp on rhythm guitar.
As is all too often the case with blues musicians, their music is better known overseas than in the States. Hopefully, this CD will change that. As you can imagine, with Margolin on guitar, the set list takes a page out of Muddy's play book and, while there is really nothing new here, Mojo's performance on harp and his Jimmy Roger's like vocals are outstanding. If you like what you hear on this disc, work backwards from here. The quality on all of this musicians work is always first rate. --- deepbluereview "deepbluereview" (Sacramento, California USA)
George "Mojo" Buford (November 10, 1929 – October 11, 2011) was an American blues harmonica player, best known for his work in Muddy Waters' band. Buford relocated from Hernando, Mississippi to Memphis, Tennessee in his youth, where he studied the blues. He relocated to Chicago in 1952, forming the Savage Boys that eventually became known as the Muddy Waters, Jr. Band. They substituted for Muddy Waters at local nightclubs whilst he was touring.
Buford first played in Muddy Waters' backing band in 1959, replacing Little Walter, but in 1962 moved to Minneapolis to front his own band, and record albums. It was in Minneapolis that Buford gained his nickname "Mojo", because of the audiences requesting him to perform his cover version of "Got My Mojo Working." Buford returned to Muddy Waters' combo in 1967 for a year when he replaced James Cotton. He had a longer tenure with Muddy Waters in the early 1970s, and returned for the final time after Jerry Portnoy departed to form The Legendary Blues Band.
He also recorded for the Mr. Blues label (later re-issued on Rooster Blues) and the British JSP label. Buford died on October 11, 2011, in Minneapolis, after a long hospitalization. He was 81.
download:   uploaded yandex anonfiles mega 4shared mixturecloud mediafire ziddu
Last Updated (Thursday, 06 June 2013 19:30)