John Koerner – Spider Blues (1965)
John Koerner – Spider Blues (1965)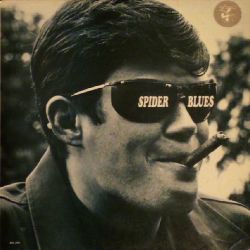 01. Good Luck Child – 2:07
02. I Want To Be Your Partner – 3:07
03. Nice Legs – 2:25
04. Spider Blues – 2:17						

play
05. Corrina – 3:16
06. Shortnin' Bread (traditional) – 2:08
07. Ramblin' And Tumblin' – 3:11
08. Delia Holmes (traditional) – 2:54
09. Need A Woman – 2:06						

play
10. I Want To Do Something – 3:35
11. Baby, Don't Come Back – 2:38
12. Hal C. Blake – 1:42
13. Things Ain't Right – 3:33
14. Rent Party Rag – 9:36

Personnel:
- 'Spider' John Koerner – guitar, kazoo, vocals
- Tony 'Little Sun' Glover – mouth harp (01,04,13)

'Spider' John Koerner (born August 31, 1938 in Rochester, New York) is an American guitarist, singer, and songwriter. He is best known as a guitarist and vocalist for the blues trio Koerner, Ray & Glover, which included Dave Ray and Tony Glover. He has also made albums as a solo performer and with collaborator Willie Murphy.
Koerner grew up in Rochester, New York and after a brief military service attended the University of Minnesota. He intended to major in engineering, but soon became involved in the local music scene where he met Dave Ray and Tony Glover. They formed a loose-knit trio, releasing albums under the name Koerner, Ray & Glover. The group gained notoriety with Blues, Rags and Hollers originally released by Audiophile in 1963 and then re-released by Elektra Records.
Koerner was an early influence on Bob Dylan and is mentioned in his autobiography Chronicles. Of that time period, Koerner later said, "We were all goofy, you know. We were thinkers and drinkers and artists and players, and Dylan was one of us. He was another guy."
In 1965, Koerner recorded his first solo album, Spider Blues, for Elektra and appeared at the Newport Folk Festival accompanied by Glover. He continued playing on the folk circuit and joined with Willie Murphy to record Running, Jumping, Standing Still in 1967. The duo eventually split up and Koerner pursued an unsuccessful career in film-making, retiring from music and moving to Copenhagen, Denmark. He later returned to music in the traditional folk music genre and continued to perform and release new albums from time to time. He now lives in Minneapolis and has two sons and a daughter.
download:   uploaded anonfiles 4shared ziddu mediafire hostuje sugarsync mixturecloud
Last Updated (Saturday, 20 April 2013 13:06)