Jon Lord With The Hoochie Coochie Men ‎– Live At The Basement (2003)
Jon Lord With The Hoochie Coochie Men ‎– Live At The Basement (2003)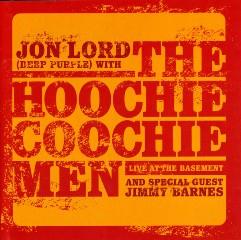 1-1 	Introduction 	2:04
1-2 	Hideaway 	3:08
1-3 	Lonesome Traveller Blues 	3:30
1-4 	Blues With A Feeling 	6:19
1-5 	You Got Good Business 	6:51
1-6 	Green Onions 	7:49
1-7 	24/7 Blues 	5:05
1-8 	Baby Please Don't Go 	3:59
1-9 	The Money Doesn't Matter 	3:12
1-10 	Strange Brew 	3:38
1-11 	Dallas 	4:39
1-12 	I Just Wanna Make Love To You 	5:52
1-13 	You Need Love 	8:24

2-1 	The Hoochie Coochie Man 	8:21
2-2 	New Old Lady Blues 	4:21
2-3 	Who's Been Talkin' 	7:08
2-4 	Six Strings Down 	5:44
2-5 	Dust My Broom 	5:19
2-6 	Back At The Chicken Shack 	9:26
2-7 	When A Blind Man Cries 	6:48
2-8 	12 Bar Blow Jam 	6:24
2-9 	When A Blind Man Cries (Single Edit) 	5:45

Bass – Bob Daisley
Drums – Rob Grosser
Guitar, Vocals – Tim Gaze
Harmonica – Jim Conway
Keyboards – Jon Lord 
+
Special Guest – Jimmy Barnes

Recorded at "The Basement", Sydney, Australia, February 7th 2003

First years of new Millennium Jon Lord met with his new low-profile band (of old guys, including bassist Bob Daisley) Hoochie Coochie Men. No jokes, they play blues standards, using vintage keyboards, in a traditions of British blues of late 60-s.
This album is first new band recording, and it's double CD album, recorded live in Sydney, Australia. From band's name and cover art you can perfectly recognize, what kind of sound you will find inside. Guys play enthusiastic, but extremely simple classic blues tunes, with harmonica, some characteristic Lord's Hammond passages ( too much of cliché) and .... it's all. Plenty of speaking communication with dedicated public makes this release more attractive for heavy fans.
Musically there are myriads of blues musicians, playing that music better. Even in rare moments, when band goes to heavier blues rock, the music sounds as played by good suburb pub band. Guest vocalist is terrible though.
I believe Lord and Co. have fun playing easy and relaxed music. This recording is absolutely collectors item, possibly released for sales during band's live shows ( by the way released in Australia only). Fans can hear Jon playing simple music in informal atmosphere. Nothing else to add. ---snobb, progarchives.com
download (mp3 @320 kbs):
yandex mediafire ulozto bayfiles