Tony McPhee - The Blues & the Beast (1992)
Tony McPhee - The Blues & the Beast (1992)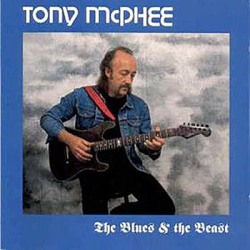 1.Someday Baby - Sleepy John Estes
2.Can't Be Satisfied - Muddy Waters
3.Love In Vain - Robert Johnson
4.Oh Death - Trad
5.Down In The Bottom - Howlin' Wolf
6.Crawling King Snake - John Lee Hooker, Bernard Besman	play
7.32-20 - Robert Johnson
8.Diving Duck - Sleepy John Estes
9.Catfish - Muddy Waters
10.Dimples - James C. Bracken/John Lee Hooker
11.Death Letter - Son House
12.Come On In My Kitchen - Robert Johnson			play
13.No Place To Go - Howlin' Wolf
14.Who Knows? [ This track sounds like Howlin' Wolf's "Smoke Stack Lightnin'" ]
15.Write Me A Few Short Lines - Fred McDowell

Tony McPhee – guitar, vocals
"The Blues & the Beast", recorded in 1991 is a superb collection of acoustic blues standards from the brilliant Tony McPhee Tony goes down very deep into traditional blues on this album. This CD has only been released in Germany, and is a very exclusive recording.
Tony McPhee (born Anthony Charles McPhee, 23 March 1944, at Redlands House, near Humberston, Lincolnshire) is an English blues guitarist, and founder of The Groundhogs.
The Groundhogs backed Champion Jack Dupree and John Lee Hooker on UK concerts in the mid 1960s, evolving into a blues-rock trio that produced three UK Top 10 hits in the UK Albums Chart in the early 1970s.
download:   uploaded anonfiles mega 4shared mixturecloud yandex mediafire ziddu
Last Updated (Sunday, 14 July 2013 21:05)