Shakey Jake - The Key Won't Fit (1983)
Shakey Jake - The Key Won't Fit (1983)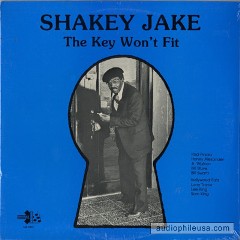 A1 	Do The Boogie With You 	
A2 	Cross My Heart 	
A3 	The Key Won't Fit 	
A4 	Down So Long 	
A5 	What You Want Me To Do 	
B1 	Let Me Tell You Baby 	
B2 	Never Leave You 	
B3 	Save Your Money 	
B4 	Easy Baby

Bass – Bill Stuve (tracks: A2, A3, A5, B2, B4), Larry Taylor (tracks: A1, A4, B1, B3)
Blues Harp – Rod Piazza
Drums – Bill Swartz (tracks: A2, A3, A5, B2, B4), Sam King (6) (tracks: A1, A4, B1, B3)
Guitar – Hollywood Fats (tracks: A1, A4, B1, B3), Junior Watson (tracks: A2, A3, A5, B2, B4), Lee King (2) (tracks: A1, A4, B1, B3)
Piano – Honey Alexander (tracks: A2, A3, A5, B2, B4)
Vocals – Shakey Jake

Jake Harris knew how to shake a pair of dice in order to roll a lucrative winner. He also realized early on that his nephew, guitarist Magic Sam, was a winner as a bluesman. Harris may not have been a technical wizard on his chosen instrument, but his vocals and harp style were proficient enough to result in a reasonably successful career (both with Sam and without).
Born James Harris, the Arkansas native moved to Chicago at age seven. Admiring the style of Sonny Boy Williamson, Harris gradually learned the rudiments of the harp but didn't try his hand at entertaining professionally until 1955. Harris made his bow on vinyl in 1958 for the newly formed Artistic subsidiary of Eli Toscano's West Side-based Cobra Records. His only Artistic 45, "Call Me If You Need Me"/"Roll Your Moneymaker," was produced by Willie Dixon and featured Sam and Syl Johnson on guitars.
The uncompromising Chicago mainstream sound of that 45 contrasted starkly with Jake Harris' next studio project. Prestige's Bluesville subsidiary paired him with a pair of jazzmen -- guitarist Bill Jennings and organist Jack McDuff -- in 1960 for a full album, Good Times (the unlikely hybrid of styles working better than one might expect). The harpist encored later that year with Mouth Harp Blues, this time with a quartet including Chicagoan Jimmie Lee Robinson on guitar and a New York rhythm section (both of his Bluesville LPs were waxed in New Jersey).
Jake Harris and Magic Sam remained running partners for much of the '60s. They shared bandstands at fabled West Side haunts such as Sylvio's, where he was captured on tape in 1966 singing "Sawed Off Shotgun" and "Dirty Work Goin' On" (later available on a Black Top disc by Sam) -- and Big Bill Hill's Copacabana before Harris moved to Los Angeles in the late '60s. He recorded for World Pacific and briefly owned his own nightclub and record label before returning to Arkansas, where he died in 1990. ---Bill Dahl, allmusic.com
download (mp3 @320 kbs):