The Blues Collection 90 - Wynonie Harris - Around The Clock Blues
The Blues Collection 90 - Wynonie Harris - Around The Clock Blues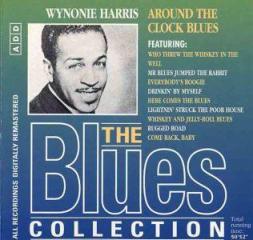 01 Who Threw The Whiskey In The Well
02 Hurry, Hurry
03 Around The Clock Blues Pt. 1
04 Around The Clock Blues Pt. 2
05 Wynonie's Blues
06 Here Comes The Blues
07 She's Gone With The Wind
08 Everybody's Boogie
09 I Gotta Lyin' Woman
10 Hey! Ba-Ba-Re-Bop Pt. 1
11 Hey! Ba-Ba-Re-Bop Pt. 2
12 In The Evenin' Blues
13 Drinkin' By Myself
14 Lightnin' Struck The Poor House
15 Mr Blues Jumped The Rabbit
16 Rugged Road
17 Come Back, Baby
18 Whiskey And Jelly-Roll Blues

Wynonie "Mr. Blues" Harris (August 24, 1915-June 14, 1969) was an American blues shouter and rhythm and blues singer.
He was born in Omaha, Nebraska. Harris traveled as a singer and dancer with the Lucky Millinder Big Band in his youth. His first big solo hit was in 1944 with his record "Who Threw The Whiskey In The Well". He was a dynamic live performer who brought a lot of attention to the emerging styles of rhythm and blues.
Harris made a major contribution to the birth of rock and roll when he covered "Good Rocking Tonight", written and originally recorded by Roy Brown. Brown's version was a jump blues with a jazz rhythm section. Harris's cover version was much more frantic and played with a much stronger back beat. In effect, Harris, a black artist, had done what many white artists were to do later. He had turned blues into rock and roll and made one of the first rock and roll records. The song was later covered by Elvis Presley.
Harris recorded for many labels and in 1947, had a hit on Aladdin Records with "Wynonie's Blues", featuring Illinois Jacquet on tenor sax. His greatest success came at King Records where he was the leading male solo artist. "All She Wants to Do Is Rock" went to Number One on the R&B charts. Many of his songs were novelty numbers, like "(Don't Roll Those) Bloodshot Eyes (at Me)", "Good Morning, Judge", and "I Love my Baby's Pudding", and his last hit, "Loving Machine".
Harris' severe alcoholism resulted in his career going into a tailspin in the mid-1950s. While other blues shouters of his generation such as Big Joe Turner were able to maintain their popularity despite changing styles, and Presley's cover versions brought his songs to a whole new audience, Harris fell into obscurity. He recorded little after 1956 and nothing after 1960. Harris' last public appearance was as a guest performer at a Motortown Revue concert at the Santa Monica Civic Auditorium in Santa Monica, California in 1966, which was universally considered to be a disaster (according to author Nick Tosches' article on Harris in Creem magazine, collected in Tosches' Unsung Heroes of Rock and Roll). Harris died of throat cancer on June 14, 1969. ---last.fm
download:  uploaded ziddu 4shared divshare gett