Gregg Allman – Gregg Allman Nola Jazzfest (2011)
Gregg Allman – Gregg Allman Nola Jazzfest (2011)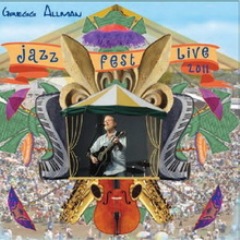 CD1:
01 – Don't Keep me Wonderin
02 – I'm no Angel		play
03 – Tears, Tears, Tears
04 – Just Another Rider
05 – Going Back to Daytona
06 – I can't be Satisfied
07 – Dreas

CD2:
01 – Before Bullets fly
02 – Melissa
03 – Whipping Post
04 – Midnight Rider
05 – Stage Banter
06 – Sweet Feelin'
07 – Statesboro Blues		play

Bass – Jerry Jemmott
Drums – Steve Potts (2)
Guitar – Scott Sharrard
Keyboards – Bruce Katz
Percussion, Vocals – Floyd Miles
Saxophone – Jay Collins
Vocals, Keyboards, Piano, Guitar – Gregg Allman

In the Blues Tent of the New Orleans Jazz Fest 2011, the most valuable player of Friday's (May 6) closing set had to be Gregg Allman's new liver. After all: No it, no him. And no deeply satisfied Blues Tent.
Looking fit and singing strong for a man of his mileage, Allman fronted a brawny, horn-driven band that sounded more Memphis or Muscle Shoals than Macon, typical of his solo work. The old liver, a victim of Hepatitis C, was swapped out about a year ago. Long may the new one run. Friday, multiple ovations met solos and song endings. A few Allman Brothers Band favorites made the playlist, but only "Melissa" would remind anyone of the version they first heard, on 1972's "Eat a Peach." The Allman Brothers favorite "Whipping Post," best known as a slinky 6/8 jam on disc and endless classic-rock-radio plays, was unleashed as a 4/4 stomp.
In addition to his new plumbing, Allman has been revivified by the reception won by his album of blues-chestnut covers released earlier this year, "Low Country Blues" (produced by T Bone Burnett, some keyboards by Dr. John). Friday, he was additionally bolstered by stellar guitar soloing by Scott Sharrard. Big, big shoes to fill for that guy, but he was up to it. Jay Collins' work on multiple horns, including flute, also earned earnest audience appreciation. They were the standouts in an excellent, supple, crowd-pleasing band.
The Blues Tent was a crowded as I've ever seen it, at least leading up to the set. There was gradual outflow, but everybody who stayed to the end enjoyed an inspiring performance by a slugger making the most of his extra innings. --- Dave Walker, The Times-Picayune
The New Orleans Jazz & Heritage Festival, often known as Jazz Fest, is an annual celebration of the music and culture of New Orleans and Louisiana. Use of the term "Jazz Fest" can also include the days surrounding the Festival and the many shows at unaffiliated New Orleans nightclubs scheduled during the Festival event weekends.
download (mp3 @320 kbs):
yandex mediafire uloz.to hostuje solidfiles
Last Updated (Tuesday, 02 February 2021 18:08)