Diana Braithwaite & Chris Whiteley ‎– Blues Stories (2014)
Diana Braithwaite & Chris Whiteley ‎– Blues Stories (2014)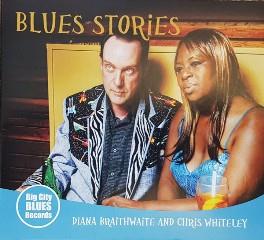 1 	Rocks And Gravel	2:08
2 	Florida 	4:12
3 	Lighthouse Keeper 	5:04
4 	Bye Bye Bird	3:21
5 	Blues March 	3:00
6 	Fried Fish 	4:24
7 	Child Of Circumstance 	7:33
8 	Tic Tac Toe 	
9 	Hard Time Killin' Floor	3:55
10 	Careless Love	4:17
11 	You Don't Have To Go	4:24

Double Bass – Terry Wilkins
Drums – Vince Maccarone
Guitar, Harmonica, Vocals, Cornet – Chris Whiteley
Piano – Jesse Whiteley
Vocals – Diana Braithwaite, Kala Braithwaite (tracks: 1, 8) 

To stay true to the blues idiom, style and atmosphere isn't an easy task to pull off in such a excellent way as Diana and Chris have done here. A mixture of covers and originals stand side by side like they belong. Much care was taken for this project. The singing and music transport you to a porch on a dusty road down south or perhaps in a run down juke joint. You may find yourself trying to clean the dust off your shoes after giving this a listen. You just took a trip way down south without leaving the house. Chris's acoustic and electric guitar playing has just the right amount of raggedness to give it that slightly sloppy and funky old time blues feel. Diana's voice sounds like the blues, warm and rich.
The traditional "Rocks And Gravel" features only the vocals of Diana and Kala Braithwaite and is basically a gospel-tinged field holler. Some greasy good guitar energizes the easy rolling boogie of the original "Florida". Slinky slide guitar underscores Diana's earnest vocal on "Lighthouse Keeper", a plea for guidance. Chris captures Sonny Boy Williamson's(Rice Miller) herky-jerky harmonica style as the sole accompaniment to Diana's vocal on "Bye Bye Bird".
The full band nicely recreates the New Orleans groove on "Blues March". Jesse Whitely plays Professor Longhair style piano and Chris plays cornet to contribute to the New Orleans sound. Chris contributes his only vocal on the original "Fried Fish", an apt depiction of road house. His always perfectly suited slide guitar enhances the vibe. He winds the tune down with his blues harp…"Fried fish, rum and ginger ale". "Child Of Circumstance", a story song, at seven plus minutes is the longest song here. It's taken at a slow and deliberate pace.
"Tic Tac Toe" is another tune about a juke joint. They flat out nail these kind of songs. This and "Fried Fish" are "too cool for school". Jesse lends his able piano once again and it wouldn't be complete without more slide goodness. Diana is accompanied by acoustic guitar on Skip James' mournful "Hard Time Killin' Floor". "Careless Love", a song closely identified with Lonnie Johnson is given a pretty straight reading. Chris's cornet completes the jazzy feel. The simple and sparse instrumental backing of Jimmy Reed is nicely done on his "You Don't Have To Go".
Whether doing cover songs or their own this record sounds like of one piece. Their love and grasp of the blues just drips out of this album. If you are a lover of down-home blues, you've come to the right place. Tell me how you call your hound dog… ---Greg "Bluesdog" Szalony, bluesblastmagazine.com
download (mp3 @320 kbs):
yandex mediafire ulozto gett bayfiles