Zac Harmon - The Blues According To Zacariah (2005)
Zac Harmon - The Blues According To Zacariah (2005)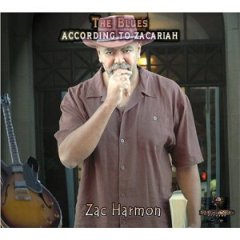 1. That Mighty High					play
2. Sugarman
3. Who's Knockin
4. It's Cool With Me
5. That's Why
6. Mannish Boy
7. It Hurts Me Too (Featuring Mickey Champion)	play
8. Comfort Of A Man (Featuring Greg Wright)		
9. A Hole In My Heart
10. Glory (Reprise) 

Personnel include: 
Zac Harmon (vocals, guitar, keyboards, bass guitar); 
Phil Gates (guitar, background vocals); 
Jeff Stone (harmonica); 
Joshua Dunham (bass guitar); 
Cora C. Coleman (drums).

The Blues According to Zacariah is one of the best CD's I've done to date. After winning the International Blues Competition (IBC) in 2004, many people were asking about what type of CD would I do. I decided to do something that was fully representative of my blues journey to date, thus the title The Blues According to Zacariah. The songs are reflections of my many childhood influences, taken from the "Blues Bible". My favorites are "That Mighty High" which is from the book of The Canton Spirituals, "That's Why" from the book of Little Milton, "Sugarman" from the book of Albert King and of course, "Who's Knockin" from the book of The Allman Brothers. The Blues According to Zacariah moves the blues forward but does not forget from where it came. --- Zac Harmon
Born and raised in the heart of Jackson, Mississippi, Zac Harmon is a true disciple of the music that emanated from the city's historic Farish Street district. While in high school and college, Harmon gigged as a guitarist for the likes of Z.Z. Hill, McKinley Mitchell, Dorothy Moore, King Floyd and Sam Myers. Relocating to L.A. in the early eighties, he worked as a studio musician, then established himself as a writer and producer, crafting songs for the likes of the O'Jays, Freddie Jackson, Karyn White, Alexander O'Neal, Black Uhuru and the Whispers. In 2004, Zac with his backup band, the Mid South Blues Revue, won the Blues Foundation's prestigious International Blues Challenge (IBC) title of "Best Unsigned Band". Zac Harmon, with the Mid South Blue Revue, continues to enthrall audiences and garner praise from the media and fans alike. The Mid South Blues Revue features Jeff Stone on blues harp, Doug "Dug Mug" Swanson on bass, Rodney "B.R." Millon on guitar and Craig Kimbrough on drums.
download:   uploaded anonfiles 4shared mixturecloud yandex mega mediafire ziddu
Last Updated (Wednesday, 24 July 2013 18:43)