Pat Ramsey - It's About Time (1995)
Pat Ramsey - It's About Time (1995)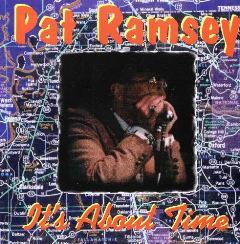 1    Allergic To Work [00:03:32]
2    Georgiea Swing [00:03:45]
3    King Of Fools [00:05:33]
4    Stingin' Stang [00:03:10]
5    I Need Money [00:04:35]
6    Broken Hearted [00:05:38]
7    It's About Time [00:03:24]
8    Jammin' In The Jungle [00:05:06]
9    Baby Baby Let's Go [00:03:44]
10    Loan Me A Dime [00:06:59]
11    Too Many Drivers [00:04:00]
12    We Can Fly [00:03:42]
13    Hippie Song [00:04:38]

Julien Kasper - Guitar: tracks 1,3,4,5,7,8,9,10,11
Sean Costello - Guitar: tracks 2,6
Alain Berkes - Lead Guitar: track 5; Rhythm Guitar: track 2
Sterling Billingsly - Guitar: tracks: 12, 13
David Bowen - Rhythm Guitar: track 4
Eddie Ceballos - Rhythm Guitar: tracks 4,7,9 

Carl Shankle - Bass
Eric Dinnena - Drums
Billy Gibson - Second Harmonica on track 4, Harmonica on track 12
Charles Campbell - Sax
Tom Clary - Trumpet
Al Gamble - Organ
Pat Ramsey - Harmonica, Vocals 

Born in Shreveport, Louisiana in 1953, Pat Ramsey began playing the harmonica at the age of 17. After a couple of years honing his chops hitchhiking all over the United States, Pat joined the Bunny Brooks Band in Denver (an offshoot of the 60's band "Jam Factory") in 1973.
In 1978, he impressed Rick Derringer, who told Johnny Winter of this "long-haired kid in Denver" who played a mean harp! Johnny liked what he heard so much that he hired Pat to play all the harp parts on the album, "White Hot and Blue."
In late 1978, Pat met Butch Trucks of Allman Brothers fame. After a couple of sizzling jams in Colorado with Butch and his band, "Trucks", Pat signed on, and made the long move to Tallahassee, Florida. When the Allman Brothers Band reunited in 1979, Butch disbanded Trucks and introduced Pat to a local Tallahassee band called Crosscut Saw. Julien Kasper, a seventeen-year-old guitar prodigy and Pat became partners and the band quickly thinned from seven to four when they decided to take the band on the road. In the next five years, Pat and Crosscut Saw played every juke joint and roadhouse from Key West to Connecticut.
They opened for B.B. King (twice), Johnny Winter, Johnny VanZandt, 38 Special, Bobby Bland, the Nighthawks and others. Before disbanding, Crosscut Saw released their album, "Mad, Bad and Dangerous to Know."
In 1985, the Pat Ramsey Band was formed when Julien opted to study jazz at the graduate level. They opened for many notables as well, including a seven-city tour of Florida (in 1987) with his old friend Johnny Winter.
Pat moved to Sarasota, Florida, in 1991, to play with his friend from the Freddie King Band, guitarist Greg Poulos. The Poulos-Ramsey Band was born. Within months they were opening for acts like Charlie Musslewhite, Solomon Burke, Albert Collins, Ronnie Earl, James Cotton and Pinetop Jenkins. Jerry Wexler hailed them as "Sarasota's ONLY Blues Band!" Two years later, they were ready to make the jump to Memphis, Tennessee. Alas, while Pat was busy scouting gigs in Memphis, tragedy struck Greg's family in Florida, bringing a premature end to this endeavor.
A new face in a new city, Pat began dealing Craps in a casino on the muddy Mississippi River, an hour south of Memphis. Jamming on Beale Street on his days off, Pat was quickly accepted by local musicians and was hired to play at the Blues Café as part of the house band.
Living out of a trailer in a nearby fishing camp, Pat scrimped and saved for the next two years. With the help of his old friend Julien Kasper (now Professor Julien Kasper at Berklee College of Music in Boston) and some of the best local Memphis musicians, Pat produced his debut CD, "It's About Time." ---cdbaby.com
download (mp3 @320 kbs):