Cuby & Blizzards - Live In Het Oude Luxor (2005)
Cuby & Blizzards - Live In Het Oude Luxor (2005)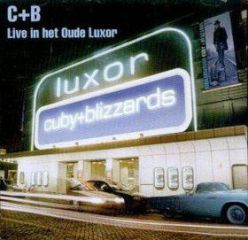 CD1:
01 - Intro-Faker 01:39
02 - Checkin' Upon My Baby 02:42
03 - Five Long Years 05:21
04 - Help Me 06:16
05 - Hobo Blues 09:15                    play
06 - Another Day, Another Road 03:02
07 - Somebody Will Know Someday 05:54
08 - Appleknockers Flophouse 04:22

CD2:
01 - Go Down Sunshine 03:18
02 - Simple Man 05:03
03 - For Real 03:48
04 - Too Blind To See 09:15
05 - Just For Fun 03:32
06 - Sugar Mama 03:27
07 - Nighttrain 03:42
08 - The Sky Is Crying 05:03             play
09 - No News, Good News 04:20
10 - Window Of My Eyes 04:25
11 - Dust My Broom 08:53

Personnel:
Harry Muskee (vocals)
Herman Deinum (bass)
Erwin Java (guitar)
Hans La Faille (drums)
Helmig van der Vegt (piano, keyboards)

Cuby + Blizzards (also known as Cuby & the Blizzards) are a Dutch blues group that started in 1964. Right from the start they were a big hit in the Netherlands. This band is completely different from another Dutch band in the same time period, Peter & the Blizzards.
In 1967 they toured with Van Morrison (in lieu of his band Them), played with Eddie Boyd, scored a hit with "Window of my Eyes" and received an Edison award. (This song was played over the ending credits for the 2010 film The American). That year, John Mayall stayed at their farm and the next year they regularly played with the 'king of British blues' Alexis Korner.
The line-up of the band changed regularly, but founders Harry Muskee (vocals) and Eelco Gelling (guitar) remained at the core of the band, despite regular unsuccessful attempts to form other bands. Herman Brood was the pianist shortly in 1967 (which kick-started his career) and again in 1976. Famous former bandmembers of Cuby & The Blizzards are: Jaap Van Eik (Bass Guitar), Willy Middel (Bass Guitar), Dick Beekman (Drums), Hans Waterman (Drums), Eelco Gelling (Guitar), John Lagrand (Harmonica), Herman Brood (Piano).
download:
Last Updated (Tuesday, 05 March 2013 16:32)