Bill Perry - Live in NYC (1999)
Bill Perry - Live in NYC (1999)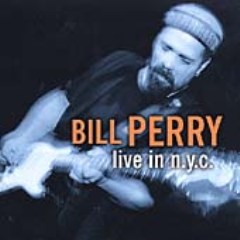 1 Lost in the Blues 5:48 
2 Dust My Broom 4:09 
3 The Other Night 3:46 
4 All Along the Watchtower 9:15 
5 How Blue Can You Get 7:38 
6 Boogie Blues 4:04                   play
7 About Me (Why I Got the Blues) 5:21 
8 Johnny B. Goode 9:01                play
9 Fade to Blue 10:49 
10 Little Wing 12:29

Bill Perry - William Sanford Perry - born in Goshen, New York on December 25, 1957, was an American blues guitarist, songwriter and singer who toured throughout the U.S. and Europe. In the 1980s, he was lead guitarist for Richie Havens. He also toured with Garth Hudson and Levon Helm around the same time.
Perry cited Jimi Hendrix, Freddie King, Albert Collins, Albert King, Eric Clapton, Johnny Winter and Duane Allman as influences.
In 1995, he was signed for an unprecedented five-album deal with the Pointblank/Virgin label. After meeting that commitment a 1999 performance led to his signing with Blind Pig records. He also appeared on albums by other artists, including Richie Havens, Groove Armada and Popa Chubby.
He died in Sugar Loaf, New York on July 17, 2007, at the age of 49.
Last Updated (Saturday, 07 September 2013 14:17)