Matt Schofield ‎– Ten From The Road (2012)
Matt Schofield ‎– Ten From The Road (2012)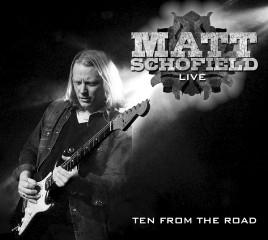 1 	Ear To The Ground 	
2 	Don't Know What I'd Do 	
3 	Live Wire 	
4 	Where Do I Have To Stand 	
5 	Anything But Time 	
6 	Dreaming Of You 	
7 	Shipwrecked 	
8 	See Me Through 	
9 	Siftin' Thru Ashes 	
10 	Not Raining Now

Drums, Finger Cymbals – Kevin Hayes
Guitar, Vocals – Matt Schofield
Organ, Bass – Jonny Henderson 

Ten From The Road is a 2012 live release from Matt Schofield, culled from two shows from his UK Anything But Time tour. This live set naturally draws heavily from that album, but other favorites from Scofield's past work are also included.
"Ear To The Ground" kicks things off and may well be Schofield's finest song and this is a fantastic version. His vocal isn't quite as dynamic as on the record but is strong and his leadwork is sensational. Each note burns and blisters, coming at you in flurries but never hurried. Schofield plays live as a trio with Jonny Henderson serving as the "bassist" for the band with left hand notes on his organ, the right hand adding a jazzy touch to the proceedings. He's also joined by drummer Kevin Hayes. On "Ear," Henderson's organ gives just the right amount of ambient shimmer and Hayes punches a couple fills while keeping the beat.
"Ear To The Ground" is my favorite moment but the nine-minute version of "Where Do I Have To Stand" is the showstopper. Schofield plays extended phrases with passion and precision. What's equally impressive is how he avoids the pitfall so many jammers cannot by stringing these solos together without becoming tedious, boring, or sounding lost.
Not every song is given the extended treatment, which is also refreshing. Henderson gets spotlight moments during "Don't Know What I'd Do" as well as "Anything But Time," the latter clocking in at under five minutes. Schofield and Henderson demonstrating their ability to connect with compact solos as well as long-form stanzas. There is nothing here that doesn't work, never a false moment. Ten From The Road is a vital, invigorating set that plays to Matt Schofield's considerable strengths, revealing a powerful performer with a distinct style and sound and a lead guitarist with impeccable taste. ---Josh Hathaway, blindedbysound.com
Matt Schofield (ur. 1977 roku w Manchester) – gitarzysta i wokalista bluesowy. Magazyn "Guitar & Bass" umieścił go w plejadzie gitarzystów wszech czasów, tuż obok takich nazwisk jak Eric Clapton i Peter Green. Pochodzi z Wielkiej Brytanii, ale jego talent znany jest na całym świecie.
Matt Schofield udowadnia, że współczesny blues wykracza daleko poza utarte muzyczne wyobrażenia o tym gatunku. Swoją przygodę z gitarą rozpoczął w wieku 12 lat zainspirowany wspólnymi nagraniami B.B. Kinga, Alberta Collinsa i Steviego Raya Vaughana. ---bluesnaswiecie.com
download (mp3 @320 kbs):
yandex mediafire ulozto gett bayfiles