Blues Women Anthology Vol.1
Blues Women Anthology Vol.1 (2007)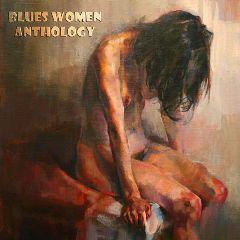 CD1
01. Peavine Blues - Rory Block
02. It's a Curse - Karin Rudefelt & Doctor Blues
03. Hound Dog - Big Mama Thornton                      play
04. Mobile - Marcia Ball
05. Killer Diller Blues - Memphis Minnie
06. Sugar Blues - Nina Hagen & Leipzig Big Band
07. Runaway Blues - Ma Rainey
08. Today I Sing The Blues - Aretha Franklin
09. The Touch Of Your Loving Hand - Maggie Bell & Stone The Crows
10. The Girl I Love, She Got Long Curly Hair (live) - Jo Anne Kelly
11. God Bless The Child - Billie Holiday
12. Dark End Of The Street - Diamanda Galas & John Paul Jones
13. Blues In The Night - Ella Fitzgerald
14. Turtle Blues (live) - Janis Joplin
15. For Sale (Hannah Johnson's Big Jack Ass) - Clara Smith
16. Chain Of Fools - Isabel Tavares & Black Coffee Band
17. Can't Sing - Elle Walker & Matt Corcoran
18. I'm Tired, I'm Tired, I'm Tiered - Marva Whitney
19. Long Gone Lonesome Blues (live) - Sheryl Crow
20. Meanest Woman - Deborah Coleman & Joe Willie (Pinetop) Perkins
21. I Just Wanna Make Love To You - Etta James        play
22. Detroit Blues - Diana Krall & Vince Benedetti


CD2
01. Hoochie Coochie Gal - Etta James
02. Scene Of The Crime - Marcia Ball
03. Travellin' Blues (live) - Carmen McRae & Dave Brubeck
04. See See Rider Blues - Ma Rainey                  play
05. Tombstone Blues (live) - Sheryl Crow
06. Reap What You Sow - Diamanda Galas
07. Proud Mary - Isabel Tavares & Black Coffee Band
08. My Baby And The Booze - Karin Rudefelt & Doctor Blues
09. I've Got What It Takes - Virginia Liston
10. I Ain't Got Nothing But The Blues - Ella Fitzgerald & Tommy Flanagan Trio
11. Another Man Done Gone - Odetta
12. Big Road Blues (live) - Rory Block
13. Ball And Chain - Big Mama Thornton
14. Body And Soul - Diana Krall
15. He Made a Woman Out Of Me - Amy Madigan & Ry Cooder
16. I Must Have That Man - Billie Holiday
17. Don't Jump My Pony - Precious Bryant             play
18. Bessie Smith (live) - Norah Jones
19. I Never Loved A Man - Aretha Franklin
20. Kitchen Mechanic Blues - Clara Smith
21. Mercedes Benz - Janis Joplin
22. Fashion Plate Daddy - Memphis Minnie

The American musical history has deep roots in the Afro-American cultural synthesis. Music, songs and dances have always been inborn in Africans - who with their unforgettable masterly performances captivate people's hearts at once. There are several genres, styles, and sub-genres in Afro-American music, namely jazz, blues, soul, etc. What we intend to discuss in the current article is the blues and the famous female blues singers.
The blues is both a musical form and genre. The name of this art form is bearing a reference to the "blue devils" implying sadness, melancholy and depressed spirits. The first records on blues would take us back to America's Deep South of late 1880s. The original blues themes were inspired by work songs, spirituals, shouts, chants, rhymed narrative ballads, field hollers, and of course the Ethiopian airs and the ragtime elements. There were formed three main blues streams: urban (city), country blues, and vaudeville. These streams in their turn also have a number of sub-genres that were popular throughout the 1990s, here belong: the Piedmont, Delta, Chicago blues, Jump, and later – the rock blues.
Starting from the first decades of the 20th century, to some extent city started to impose particular frames on the variant performance of the blues compositions moulding it to better fit the public. From this time on female singers started to reap the laurels. Famous female blues singers from that time on (both city and vaudeville) would include: Gertrude "Ma" Rainey, Mamie Smith, Bessie Smith, Victoria Spivey, Ida Cox, Ethel Waters, Alberta Hunter, Sippie Wallace, Clara Smith, Edith Wilson, Trixie Smith, Sara Martin, Bertha "Chippie" Hill, and Lucille Hegamin. However to make the list more complete we must mention round 100 other singers namely: Viola McCoy, Lizzie Miles, Martha Copeland, Rosa Henderson, Edith Johnson, Bessie Jackson (Lucille Bogan), Katherine Baker, Hattie Burleson, Margaret Johnson, Madlyn Davis, Maggie Jones, Ivy Smith, Gladys Bentley, Alberta Brown Ida Goodson, Billie Pierce Virginia Liston, Florence Mills, Fannie May Goosby, and Bernice Edwards. After the 30-year's decline starting form the late 1950s the female blues began to revive. Musicians (a band) playing the piano, drums and horns would normally back the female singers.
The epoch of the classic female blues lasted about a decade 1920 – 1929. The Mother of Blues is considered to be Ma Rainey who added comedy and show action while singing. She had more than hundred songs. However in 1920 it was Mamie Smith who became the first performer of the blues to make recordings. She is also known as "America's First Lady of the Blues". She sold tens of thousand records during the first month. According to the records, the best paid and most admired was Bessie Smith. Ruth Brown had a soft vocal and made the charts for over a decade from late 1940s till somewhere 1955. Afterwards she was more known as a pop and rock 'n' roll singer. The artists who performed in soul and R&B genres were under the strong influence of her outstanding talent. Among the top singers of the 20th century we need to mention Ida Cox. Besides being a performer she ran a couple of businesses, she was also a manager and a producer. She performed mostly for women audiences, as from women and about women. A blues legend was Billie Holiday. She had an unforgettable vocalic talent and a bright personality.
download (mp3 @320 kbs):
yandex mediafire ulozto bayfiles
Last Updated (Monday, 21 September 2020 08:10)