Charlie Sayles - I Got Something To Say (1995)
Charlie Sayles - I Got Something To Say (1995)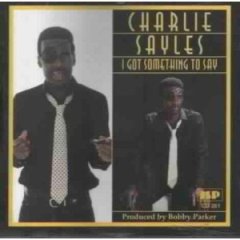 1-Mississippi Saxophone
2-The Man
3-Hip Guy
4-Zydeco                     play
5-I Got Something To Say
6-Little Walter's Blues
7-Hey Joe
8-I Love My Baby
9-I Like What I Like
10-Two Timin' Woman
11-Funky Sound
12-Screecher
13-Well Now
14-I Got Something To Say
15-Hip Guy
16-Well Now
17-Mississippi Saxophone
18-I Love My Baby
19-Little Walter's Blues     play

Personnel: 
Charlie Sayles (vocals, harmonica); 
Deborah Coleman, Shawn Kellerman (guitar); 
Anthony Gonsalves (background vocals).

Charlie, an African American born in 1948, has been playing his blues for nearly 30 years. After returning from two years of service in the Vietnam War in 1971, he taught himself the harmonica, honed his music on the streets and in clubs, and worked his way across the country. By the mid-1970s, he recorded his first album and was playing for large music festivals followed by international tours. Charlie's recordings and performances have garnered very high critical claim. (Press reviews are available.) In 1997, he launched the Union Mission Band in Washington, DC. Following is a selected list of accomplishments.
"The Afro-American harmonica, or blues harp, gives us one of America's great traditional art forms. It can't be written down with music notation; you have to hear it to believe it. Charlie Sayles is one of our very best harp players." - Pete Seeger
download:    uploaded ziddu 4shared divshare hostuje mediafire
Last Updated (Tuesday, 26 February 2013 17:33)