A.C. Reed and Big Wheeler – Chicago Blues Session Vol.14 (1989)
A.C. Reed and Big Wheeler – Chicago Blues Session Vol.14 (1989)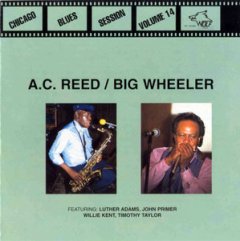 01. A. C. Reed - I Ain't Doin' Too Bad (3:35)
02. A. C. Reed - I Got The Blues (5:02)
03. A. C. Reed - I'm A Jealous Man (3:59)
04. Big Wheeler - Good Lover (5:21)
05. A. C. Reed - Last Time Around (3:33)         play
06. Big Wheeler - Crazy 'Bout You Baby (3:05)    play
07. A. C. Reed - Honey Where You Goin' (4:05)
08. Big Wheeler - Last Night (7:40)
09. Big Wheeler - What's On Your Mind (5:36)

A.C. Reed (vocals, tenor saxophone); 
Big Wheeler (vocals, harmonica); 
Billy Edd Wheeler (vocals, harmonica); 
John Primer (guitar, acoustic ... Full Descriptionguitar); 
Luther "Slim" Adams (guitar).

А. С. REED was born Aaron Corthen in Wardell, Missouri on May 9, 1926. As a child he heard a Jay McShann record and the saxes in the reed section attracted A. C. 's attention. After a short stay in Carbondale, III. He moved to Chicago when he was fifteen. There he bought his first saxophone from the money he received out oi two paychecks from a foundry job. He attended the Chicago Conservatory of Music, conscientously studying and trying to copy every Gene Ammons note he heard. It was J. T. Brown, the great Chicago Blues saxplayer (who fronted Elmore James' backup band, the Broomdusters), that took young A. C. under his wing. With Brown's assistance he learned to play a much simpler style and to quote A. C. himself, to tell a story with the solos'. Brown's advice worked and A. C. won a gig with Willie Mabon at the Planet Lounge in 1948. During the 5os, A. C. quit his day job and joined Dennis Binder's band and toured Texas, Oklahoma, Arizona and Colorado. Upon A. C. s return to Chicago in 1960, his old friend Earl Hooker talked to him about cutting his first 45 for the Age label. That was the great composition " This Little Voice", on which A. C. pays tribute to his mentor Jimmy Reed (A. C. named himself after Reed, after relatives told him that they were half-brothers). Later he recorded for various companies including USA, Nike and Cool; he even had a hit with Talkin' Bout My Friends" and played on sessions by Ricky Allen, Earl Hooker and Muddy Waters. After a ten year stint with the Buddy Guy Band (that took A. C. around the world), ne joined first Son Seals, then Albert Collins and toured Europe and Japan, as well as the United States. Today, А. С Reed fronts his own band, the " Spark Plugs", and has recorded albums for Ice Cube, Blue Pheonix, Alligator and Austrian EMI, together with the Mojo Blues Band of Vienna. Austria. In 1988, А С was one of the highlights on the "Stars Of Boogie Woogie" package tour, traveling Austria and Germany. Besides being a very nice person, A. C. shines through his own humorous compositions, always performed with feeling and dedication, some of which you can hear on this compact disc.
BLUES PATH OF BIG WHEELER Place of birth: Beaconton. Georgia Date of Birth: December 16, 1929 "I got interrested in the blues in the mid 1930's. A local guy in the neighborhood would come by our house, play the guitar and sing the blues the music that made me feel good. I first started learning how to play the harmonica in the early 1950's. The person who directly influenced me was a guy by the name of Buster Brown. Buster was a Har¬monica player and singer, he would perform on one of the local radio stations. I was a cab driver at the time, that's how I met him. Buster would catch my cab if he was running late to the station. He would always play and sing while he rode. Buster would always try to get me interested in the harmonica, after listening to him for a while I decided to take his advice. The first Harmonica I bought was a OLD STAND BY in the key of G. In one weeks time I was able to play the song "THAT'S ALRIGHT" by Jimmy Rogers. I put my first band together in 1955, it consisted of two guitars, drums and harmonica. Since that time I have numerous bands playing at various places around the Chicago area and some out of state cities as New York. Cleveland, Ohio, Pelam. Georgia, Canton Mississippi. Michigan City, Indiana, Rockford, IL. Beloyd Wisconsin just to name a few. My favorite harmonica style is that of Little Walter's but I like the styles of Jimmy Reed, Junior Parker, Willie Mabon, Sonny Boy Williamson and Sonny Terry. I have performed with some of the best: to name a few: Little Walter, Hound Dog Taylor, Buster Benton, Jimmy Johnson, , James Cotton, Willie Mabon, Mad Dog Lester, Buddy Scott, Junior Wells, Magic Slim, Carey Bell, Pop Stapleton, Willie Kent, Casey Jones, Willie Buck. Joe Carter, Freddy King. Sunnyland Slim, Little Eddie King. Although I have performed with a host of musicians, I would have to say that I considered my self a part-time musician during this period from 1955 to 1987, however at the present I have devoted most of my time to the Blues..."
download (mp3 @320 kbs):
Last Updated (Sunday, 02 May 2021 16:53)