Mike Zito & The Wheel ‎– Songs From The Road (2014)
Mike Zito & The Wheel ‎– Songs From The Road (2014)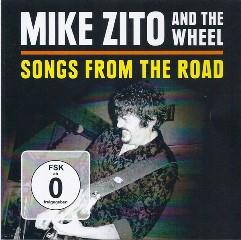 1 	Introduction	
2 	Don't Break A Leg
3 	Greyhound
4 	Little Red Corvette
5 	Rainbow Bridge
6 	Pearl River
7 	Hell On Me
8 	C'mon Baby
9 	Judgement Day
10 	Dirty Blonde
11 	Subtraction Blues
12 	Gone To Texas

Drums, Percussion – Rob Lee
Piano, Organ – Lewis Stephens
Vocals, Bass Guitar – Scot Sutherland
Vocals, Guitar – Mike Zito
Vocals, Saxophone – Jimmy Carpenter 

Songs from the Road by Mike Zito and the Wheel is Mike's latest album under his own name. This is a burning set of blues-based rock, Americana and soul. This live album is part of a two disc set that also includes a DVD of the show at the Dosey Doe in Houston, Texas. The playing is tight and flawless while the mix is clean and clear. You hear every nuance of Mike's soulful voice, and what a voice it is! Mike has the soul of Otis Redding and Sam Cooke, with the thick grit of Duane Allman, Delbert McClinton and Bob Seger.
The album opens with the funky blues jam "Don't Break a Leg" but Mike quickly shifts gears to the Springsteen/Seger-esque "Greyhound," a song about life on the road. Mike changes the mood once again during the mid to slow tempo soul ballad, "Little Red Corvette." Yes, a cover of the Prince song. This is definitely one of the album's highlights. Mike's treatment is reminiscent of Ben Harper's remake of Marvin Gaye's "Sexual Healing." He takes this familiar song to a whole new place and suddenly a song about getting laid in a Corvette takes on a very romantic feel.
Mike picks the tempo up a bit for the tex-mex "Rainbow Bridge" and then it's all blues for "Pearl River" and "Hell on Me." The latter is a minor key swing number and features Mike tearing up his Tele through a wah-wah and roto-vibe. This is some of his best guitar work on the album."C'mon Baby" is another soul ballad ala Sam Cooke. "Judgement Day" is a hard-driving rock and soul number, followed by the swinging "Dirty Blonde" and zydeco-flavored "Subtraction Blues." The album ends with the southern rock piece "Gone to Texas," which reminds me of The Allman Brothers with a saxophone.
The most outstanding thing about Songs from the Road is Mike Zito's voice. His delivery is spot on and dripping with soul on every track. The Wheel does a masterful job of complementing Mike's voice. Jimmy Carpenter's sax and Lewis Stephen's piano and organ shared solos, along with Mike's guitar work, really opens up the sound. This is an excellent representation of what Mike Zito and the Wheel can do in a live setting. ---Lou Lombardi, bluesrockreview.com
Mike Zito to doświadczony gitarzysta i wokalista, którego nazwisko w bluesowym światku wiele znaczy. "Today", "Pearl River", "Greyhound"... Każda solowa płyta Amerykanina wyznaczyła nowe kierunki dla blues-rocka, nierzadko będąc obowiązkowym punktem odniesienia dla młodszych muzyków. W 2012 roku powołał do życia zespół The Wheel.
Zito zawodowo śpiewa od piątego roku życia. Tak, to nie żart! W 2006 roku serią ukazały się trzy owoce jego młodzieńczej aktywności artystycznej - płyty "Superman", "Americas Most Wanted" i "Slow It Down". W 2008 roku podpisał kontrakt z Eclecto Groove Records. Wtedy też w ręce fanów blues-rockowego grania trafił album "Today", a kariera Mike'a zmieniła się nie do poznania. Pochwałom ze strony słuchaczy i mediów nie było końca. Zaledwie rok później jego dyskografia powiększyła się o kolejny album, z którego utwór tytułowy, "Pearl River", przyniósł mu upragnioną Blues Music Award w kategorii Piosenka Roku.
W latach 2010-2014 Zito był wokalistą i gitarzystą popularnej supergrupy Royal Southern Brotherhood, która wstrząsnęła światowym rynkiem muzycznym, m.in. wyborną debiutancką płytą i statuetką Blues Music Award za najlepsze wydawnictwo DVD, relacjonujące trasę koncertową w Niemczech. Najnowsze krążki, znakomitą "Gone To Texas" i koncertową "Songs From The Road", Mike nagrał wraz z założoną trzy lata temu formacją The Wheel. ---biletyna.pl
download (mp3 @320 kbs):