Anni Piper - Two's Company (2009)
Anni Piper - Two's Company (2009)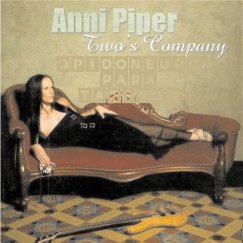 01. Blues Before Sunrise 3:23    play
02. Live to Play 2:57
03. Man's Woman 1:50
04. Untrue 4:33
05. Jailbait 3:38
06. Watchdog 3:32
07. Two's Company 2:44
08. Come in My Kitchen 3:09
09. Mystery of Love 3:30
10. Love's Truly Blind 3:26
11. Texas Hold 'Em 3:03          play
12. Little Redhead 3:21

Personnel: 
Anni Piper (vocals, bass guitar); 
Marcus Adamson (guitar, slide guitar); 
Richard Steele, Allan Vander Linden (guitar); 
Rupert Hyde (Hammond b-3 organ); 
Dennis Wood, Trent Batchelor (drums); 
Jeff Cripps (percussion); 
Jack Kreisberg, Ben Elliott (sequencer).

2005 Australian Blues Music Award winner for Best New Talent, Anni Piper introduces her music to the rest of the world with her first Blues Leaf release "Two's Company", a compilation from her two Australian releases. Select cuts were remastered to showcase her talent as a vocalist, bass player, and songwriter, as ten of the twelve cuts are originals.
This CD is versatile to which Piper together with her band shines with well-chosen songs and texts. But the most attractive on this CD is Piper's voice, she can get to the bone managed to get by her deep voice, and later she sounds more poppy as "Watchdog ". In this Piper sounds equally wonderful. If it sounds on the title track as Bonnie Bramlett in the 70s."
download:  uploaded anonfiles mega 4shared mixturecloud yandex mediafire ziddu
Last Updated (Saturday, 31 August 2013 21:44)