Lucky Peterson – Life Time (1996)
Lucky Peterson – Life Time (1996)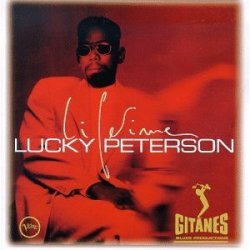 01 – bad condition
02 – shinning star
03 – we ll be together
04 – life time			play
05 – next in line
06 – blue interlude
07 – wash my back
08 – i aint buyin
09 – ham buger
10 – bird in the hand
11 – hide away
12 – change is gonna come		play

Lucky Peterson (vocals, guitar, Wurlitzer piano, electric piano, Hammond B-3 organ, Clavinet); 
Bootsy Collins (guitar, horns, bass, drums); 
Butch Bonner (guitar, background vocals); 
Todd Parsnow (guitar); 
Johnny Davis (piano); 
Tracy C'Vello (synthesizers, shakers, snare, guiro, triangle); 
Bernie Worrell (space board); 
Walter Nelson (bass); 
Brent Nance (drums, tambourine, shakers, conga, drum programming, background vocals); Dennis Chambers, Ben Irvin (drums); 
Carolyn Sanford, Kristen Gray, Benita Arterberry, Alisa Yarbrough, Cavin Yarbrough (background vocals).

Recorded at Dockside Studios, Maurice, Louisiana and Bootzilla Re-Hab Center, Cincinnati, Ohio in 1995.

Lucky Peterson was discovered by blues legend Willie Dixon when he was three years old, released his first record at five and soon after appeared on The Tonight Show. Trained by keyboardists Bill Doggett and Jimmy Smith, Peterson went on to play behind Little Milton, Bobby "Blue" Bland and Kenny Neal. On return from the "Young Blues Giants" tour of Europe, he signed first with Alligator, then Verve, Blue Thumb and Birdology/Dreyfus, where he recorded what Amazon.com called "his finest album," Black Midnight Sun, in 2003. The New Yorker called him "a master of the guitar, organ and microphone."
But his journey was not a smooth one, and Peterson spent the next few years in transition, with personal troubles preventing a proper follow-up to Black Midnight Sun.
But you can always turn around. These words took on special meaning for the 45-year-old Peterson, which is why the first album since his rehabilitation is titled You Can Always Turn Around. It is an uplifting collection of songs that speak of struggles and salvation, using the gritty clarity of acoustic roots-blues (with modern touches) as its main musical vehicle.
The album, scheduled for September 28, 2010 release on Dreyfus Records, was made in the Catskills with master Woodstock musicians Larry Campbell, guitar (Bob Dylan, Levon Helm); Scott Petito, bass (The Fugs, Mercury Rev, Rick Danko Band); and Gary Burke, drums (Joe Jackson, Shania Twain). Peterson as usual plays a mix of instruments: duolian resonator, piano and acoustic and electric guitars. Also prevalent is the acoustic piano on which Lucky sounds like a bluesy Elton John. "He's something of a genius — his piano playing remind me of Aretha Franklin," says drummer Burke, who has played behind Franklin on the road.
But it's Peterson's vocal instrument that some might find most arresting. Peterson wraps his voice around an eclectic selection of blues-based materials including songs by original Delta bluesmen Robert Johnson, Rev. Gary Davis and Blind Willie McTell up through the music of today's top songwriters including Lucinda Williams (who remarked "Lucky Peterson's version of my song, "Atonement" absolutely blew me away! It is just spectacular!!!"), Tom Waits and Ray LaMontagne. The album closes with a version of Curtis Mayfield's "Think."
"This album is very different for me — it's more from the heart," says Peterson. "The songs were picked by (co-producer) Doug Yoel, and he knew my heart. I feel like all these songs were for me." The album would be the last co-production of Francis Dreyfus, who passed away on June 24, before the album's release.
One standout on the album is the civil-rights era anthem "I Wish I Knew How It Would Feel To Be Free," written by Billy Taylor and popularized by Nina Simone. The new recording introduces Tamara Peterson, Lucky's wife, a worthy blues singer in her own right. The chemistry between Lucky and Tamara on that session was so exciting that Larry Campbell was prompted to invite the pair to appear with the Levon Helm Band at the Midnight Ramble concert the following night.
Peterson creates something brand new on "Trampled Rose," turning a wordless hook into a seductive Arabian-flavored line. The band responded to and fed the creativity of the newly awakened Lucky Peterson, and the results are truly special.
Peterson continues to tour, doing dates big and small. This new album should increase awareness of and demand for this one-of-a-kind musician. And when off the road, he'll be at his church in Dallas, Texas with his family, holding on, and playing for one very lucky congregation.
download (mp3 @320 kbs):
yandex mediafire ulozto solidfiles global.files workupload
Last Updated (Thursday, 22 April 2021 16:17)