Lucky Peterson - Double Dealin' (2001)
Lucky Peterson - Double Dealin' (2001)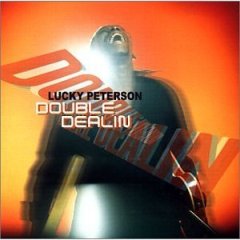 1. Double Dealing
   2. It Ain't Safe
   3. When My Blood Runs Cold
   4. Smooth Sailing
   5. Don't Try To Explain
   6. Mercenary Baby
   7. Ain't Doin' Too Bad
   8. Where Can A Man Go_
   9. 3-Handed Woman
  10. Doin' Bad, Feelin' Good
  11. 4 Little Boys
  12. Remember The Day

Lucky Peterson (vocals, guitar, Hammond B3 organ); 
Johnny Lee Schell, John Porter (guitar); 
Joe Sublett (tenor saxophone); 
Darrell Leonard (trumpet, trombonium); 
Jon Cleary (keyboards); 
Reggie McBride (bass); 
Tony Braunagel (drums); 
Tamara Peterson (background vocals).

As one of the most versatile players in blues, Lucky Peterson ranks among the best of the best. His first release for the Blue Thumb label, Double Dealin' showcases the artist on 12 great songs soaked in the sentiments and emotions that characterize the blues style. Peterson plays the lead guitar, the Hammond B3, and sings his gut-wrenching blue notes with a great band that includes Johnny Lee Schell on rhythm guitar, Jon Cleary on keyboards, Reggie McBride on bass guitar, Tony Braunagel on drums and Tamara Peterson on background vocals. The Texacali Horns back the personnel with exceptional clarity using a serious combination of brass techniques. Peterson's use of an emotionally direct style is also rapidly establishing him as a great storyteller. "When My Blood Runs Cold," "4 Little Boys," and "Remember the Day" are among the themes he deals with from an original perspective and are among the standouts of the hard blues intonations. This CD is reflective of the successful urban blues techniques used on his previous efforts in that it specifically captures the essence of both the "chitlin circuit" and the electric blues associated with the Chicago style without compromising the traditional aspects of the blues form. A welcome addition to any blues collection. ---Paula Edelstein, allmusic.com
download (mp3 @256 kbs):
yandex mediafire mega ulozto solidfiles global.files workupload
Last Updated (Thursday, 22 April 2021 18:47)