Essential Delta Blues (2009)
Essential Delta Blues (2009)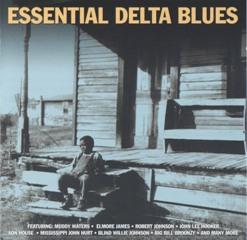 Disc 1
01. Robert Johnson / I Believe I'll Dust My Broom [0:03:00.24]
02. Big Joe Williams / Baby Please Don't Go [0:01:42.67]
03. Tommy Johnson / Canned Heat Blues [0:03:39.57]
04. Tony Hollins / Crawlin' King Snake [0:03:08.59]
05. Bukka White / Parchman Farm Blues [0:02:42.05]
06. Muddy Waters / Country Blues [0:03:26.63]
07. Sleepy John Estes / Special Agent Blues [0:02:50.53]
08. Son House / Walkin' Blues [0:06:40.00]
09. Mississippi John Hurt / Candy Man Blues [0:02:46.71]
10. Skip James / Hard Time Killin Floor Blues [0:02:49.12]
11. Blind Willie Johnson / Dark Was The Night - Cold Was the Ground [0:03:19.71]
12. Robert Lockwood Jr. / Little Boy Blue [0:03:05.43]
13. Bo Carter / Banana In Your Fruit Basket [0:03:07.51]
14. Robert Petway / Catfish Blues [0:02:53.12]
15. Tommy McClennan / Bottle It Up and Go [0:02:48.43]
16. John Lee Hooker / Landing Blues [0:03:28.46]
17. Elmore James / Standing At The Crossroads [0:02:47.53]
18. Arthur 'Big Boy' Crudup / Death Valley Blues [0:03:15.33]
19. Blind Willie McTell / Stomp Down Rider [0:03:08.16]
20. Big Joe Williams / Rootin' Ground Hog [0:03:02.74]
21. Robert Johnson / Love In Vain [0:02:21.44]
22. Charley Patton / Shake It And Break It [0:03:07.66]
23. Ishman Bracey / Trouble Hearted Blues [0:03:25.23]
24. Bukka White / Fixin' To Die [0:02:48.69]

Disc 2
01. Big Bill Broonzy / Mississippi River Blues [0:02:45.41]
02. Mississippi John Hurt / Ain't No Telling [0:02:57.40]
03. Bukka White / Special Steam Lines [0:02:55.40]
04. Big Joe Williams / I'm Getting Wild About Her [0:02:48.68]
05. Robert Johnson / Hellhound On My Trail [0:02:38.30]
06. Tommy Johnson / Cool Drink Of Water Blues [0:03:36.15]
07. Robert Lockwood / Take A Little Walk With Me [0:02:54.43]
08. Muddy Waters / I Be's Troubled [0:03:06.33]
09. John Lee Hooker / Shady Grove Blues [0:03:22.28]
10. Sleepy John Estes / Hobo Jungle Blues [0:02:57.10]
11. Charley Patton / 34 Blues [0:02:58.14]
12. Ishman Bracey / Left Alone Blues [0:03:30.09]
13. Tommy McClennan / Highway No.51 [0:02:51.11]
14. Robert Petway / Rockin' Chair Blues [0:02:56.20]
15. Son House / My Black Mama (Part 1) [0:03:10.19]
16. Blind Willie Johnson / Nobody's Fault But Mine [0:03:10.68]
17. Willie 'PoorBoy' Lofton / Dirty Mistreater [0:02:50.10]
18. David 'Honeyboy' Edwards / Stagolee [0:01:07.31]
19. Charley Patton / Moon Going Down [0:03:16.46]
20. Skip James / Devil Got My Woman [0:03:01.11]
21. Robert Johnson / Preaching Blues (Up Jumped The Devil) [0:02:52.65]
22. Big Joe Williams / Delta Blues [0:02:41.21]
23. Arthur 'Big Boy' Crudup / Black Pony Blues [0:03:22.51]
24. Mississippi John Hurt / Frankie [0:03:24.38]
25. Bo Carter / My Pencil Won't Write No More [0:02:56.29]

Despite the freedom gained in the American Civil War, most African-Americans had seen little change in their living conditions by the beginning of the 20th Century. Ironically, it would take another conflict to change the outlook. The First World War created jobs for unskilled workers in the North and many took the opportunity to escape the cloying restrictions of the South. The unsophisticated sounds of the country were no longer relevant to their lifestyles and the music changed accordingly. Without the blues there would have been no rock 'n' roll, and this generous 50 track compilation is nothing less than the roots of that revolution. ---Editorial Reviews, amazon.com
Let me be upfront and clear - I love Delta Blues guitar work and the integrity of emotion that can only come from living a life trapped in the hard situation found during the birth of these blues. This is a time that is past and will most likely never be recreated again - thankfully for those involved. That said, these times did create an intense state of music and lyrics that I am most thankful were captured for me to appreciate and empathize with.
These two discs do capture many of the great delta bluesmen performing many of there best works. I feel it is a fine compilation of the works from the era.
I tend to like the songs with a spiritual bent and those expressing the deep lonesomeness of hopelessness associated with being trapped in a hard and uncaring society with no way out. My favorite song by far is "Dark Was The Night - Cold Was The Ground" by Blind Willie Johnson. The guitar actually speaks to you in blue words while the lyrics are only spiritual moans - a deep powerfully sad and blue emotion. No amount of money could ever produce such a song. Listening to these blues it is easy to see how musicians who have a deep love of what music can emote were attracted to the Delta Blues era. The Rolling Stones, The Beatles and Eric Clapton, amongst many others, were all fascinated with the sound and emotion created in this era. The stories in the songs run from the standard male/female relations, spirituals, death and down and out hopelessness.
If you are looking for smooth voices and songs to dance to, don't think about these recordings. These recordings are deep sadness and expressions of human emotions which help all survive rough times. The recordings go all the way back to the late 1920's and many are surprisingly good for the era and situation in which they were recorded. If you appreciate raw talent and deep emotion - enjoy it all!!! ---Phil, amazon.com
download (mp3 @320 kbs):
yandex 4shared mega mediafire uloz.to cloudmailru