Classic Old-Time Music from Smithsonian Folkways (2003)
Classic Old-Time Music from Smithsonian Folkways (2003)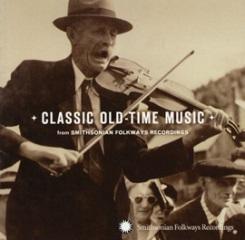 1.    Sugar Hill - The Iron Mountain Band
2.    Bill Morgan And His Gal - The New Lost City Ramblers
3.    Country Blues - Dock Boggs
4.    Little Sadie - Clarence Ashley
5.    Susannah Gal - Tommy Jarrell
6.    Wednesday Night Waltz - Clark Kessinger
7.    Cyclone Of Rye Cove - The New Lost City Ramblers
8.    I'm Leaving You This Lonesome Song - Maybelle Carter And Sarah Carter Bayes
9.    Carroll County Blues - Doc Watson
10.    Don't Let Your Deal Go Down - Sam And Kirk McGee
11.    Trouble In Mind - Roscoe Holcomb
12.    Chilly Winds - Wade Ward
13.    Going Down The Road Feeling Bad - David, Bill And Billy Ray Johnson
14.    Pretty Polly - Lee Sexton
15.    Bonaparte's Retreat - Mike Seeger
16.    Concord Rag - J.E. Mainer's Mountaineers
17.    John Henry - George Pegram
18.    Bowling Green - Cousin Emmy With The New Lost City Ramblers
19.    Fine Times At Our House - John W. Summers
20.    Streets Of Glory - Old Reliable String Band
21.    Policeman - The Spare Change Boys
22.    Love Somebody (Soldier's Joy) - Joe And Tommy Thompson
23.    House Of David Blues - Red Clay Ramblers
24.    Ship In The Clouds - Andy Cahan
25.    Late Last Night - Sam And Kirk McGee
26.    Look Down That Lonesome Road - Gaither Carlton
27.    Down Yonder - John Patterson
28.    Jaybird March - Etta Baker
29.    John Brown's Dream - The New Lost City Ramblers

Personnel: 
John Cohen, Sam McGee, Tom Paley (vocals, guitar, banjo); 
Tracy Schwarz (vocals, guitar, fiddle); 
Frank Bode, Artie Rose, Jim Watson, Mother Maybelle Carter, Sara Carter (vocals, guitar); 
Clarence Ashley, Cousin Emmy, Dock Boggs, George Pegram, Eric Davidson, Lee Sexton, Roscoe Holcomb (vocals, banjo); 
Mike Seeger (vocals, autoharp, mandolin, fiddle); 
Gaither Carlton, Hank Bradley, David Johnson (vocals, fiddle); 
Cora Phillips, Doc Watson, Gene Meade, Eric Thompson (guitar); 
Etta Baker, Kirk McGee, Andy Cahan, Wade Ward, Walt Koken (banjo); 
Clark Kessinger, Joe & Odell Thompson, Caleb Finch, Fred Price, Gordon Tanner, Lisa Ornstein, 
J.E. Mainer, Al McCanless, Jody Stecher, John Summers, Tommy Jarrell (fiddle).

This collection of old-time social and instrumental string-band music spotlights instrumental prowess. Old-time music features playing styles that pre-date bluegrass, emerging from the string band tradition stretching back to the early years of United States history. Both African-American and Anglo-American ingredients are at its core, the banjo having African origins, the fiddle European. Some of the most revered sources of old-time roots music—Dock Boggs, Roscoe Holcomb, Wade Ward, Tommy Jarrell, and more—are heard playing in their original styles. The Grateful Dead's cover of "Don't Let Your Deal Go Down" and Bob Dylan's rendition of Clarence Ashley's "Little Sadie" clearly attest to the continuing influence of these songs. Compiled and annotated by Jeff Place. ---folkways.si.edu
download:   uploaded anonfiles mega 4shared mixturecloud yandex mediafire ziddu