Joe Louis Walker - Silvertone Blues (1999)
Joe Louis Walker - Silvertone Blues (1999)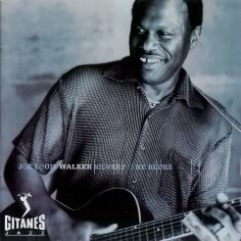 01. Runnin' from the Devil
02. Kenny's Barrelhouse
03. Change My Ways
04. Do the Walkin' 
05. Trouble on Wheels 
06. Letting Go 
07. Talk to Me
08. Silvertone Blues
09. Born in Mississippi
10. Crying Won't Help You
11. It's You Baby 
12. Bad Luck Blues

Personnel:
 Joe Louis Walker (vocals, guitar, slide guitar, dobro, harmonica, piano); 
Alvin Youngblood Hart (guitar); 
James Cotton (harmonica); 
Kenny Wayne (piano); 
Joe Thomas (acoustic bass); 
Chris Sandoval (drums).

Some critics have tagged this the best blues release of 1999; others weren't nearly as kind. It's a beauty-is-in-the-ear-of-the-beholder situation. Blues "purists" who lament the fact that very few artists today are playing down-home, traditional blues will very much enjoy and appreciate this return to the roots. Fans of more contemporary styles might quickly grow tired of the intense, piercing vocals and upper-register slide guitar work. There are ten originals and two covers (Robert Nighthawk's "Crying Won't Help You" and Sunnyland Slim's "It's You Baby"). Most of the tunes are sparse, gritty duets with either James Cotton on harp, Alvin Youngblood Hart on guitar/vocals, or Kenny "Blues Boss" Wayne on piano. Walker sings and plays dobro on the only solo track "Talk to Me." If you long for a modern-day artist with the delivery of a Robert Johnson or a Howlin' Wolf and you like your blues pure and raw, Silvertone Blues is right up your alley. --- Ann Wickstrom, Rovi
download:  uploaded gett 4shared ziddu sugarsync mediafire anonfiles hostuje
Last Updated (Thursday, 18 April 2013 09:36)