Joe Louis Walker - Blues of the Month Club (1995)
Joe Louis Walker - Blues of the Month Club (1995)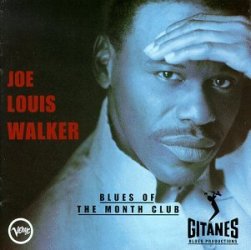 01. Blues Of The Month Club				play 
02. You've Got To Loose 
03. Lost Heart 
04. Bluesifyin' 
05. Hidden Fellings 
06. Play'em Where They Lay				play 
07. Get It Right 
08. I'm Not Comin' Over 
09. Second Street 
10. Your Lyin' Eyes 
11. Street People

Personnel: 
Joe Louis Walker (vocals, guitar, acoustic guitar, slide guitar, background vocals); 
Steve Cropper (guitar); 
Andrew Love (tenor saxophone); 
Wayne Jackson (trumpet); 
The Memphis Horns (horns); 
Mike Eppley (piano, organ, keyboards, background vocals); 
Curtis Nutall (drums); 
Melvin Booker (background vocals).

There may not be a finer all-around blues artist in the U.S. than Joe Louis Walker, whose third album for the Verve label impresses from start to close. Emotionally connected with gospel and soul as well as blues, he injects his confident singing and sophisticated, lyrical guitar-playing into an appealing program of eight originals and a song apiece from R&B great Ike Turner ("You've Got to Lose"), world-famous R&B scribe Dan Penn (with songwriting help from fellow Nashville resident Gary Nicholson on the title cut), and his dependable Bosstalkers band ("Second Street"). For certain, Walker's individual way with a song is memorable, inviting return listens. Special guests this time around include bass great Steve Cropper, who helped Walker produce the record; the ever-busy Memphis Horns; and, not least, the church singers The Spiritual Corinthians. ---Frank-John Hadley, Editorial Review
Walker's latest is, alas, also his weakest to date -- strange, since he shares production credit this time with the legendary Steve Cropper. Once again, some songs drag on far after their logical conclusions; also, Walker doesn't quite possess the pipes to effectively belt the old Jackie Brenston rouser "You've Got to Lose." The title track, with Cropper co-featured on guitar, is a clever piece of material, but overall, the slick production values strip some of the grit from Walker's incendiary attack. --- Bill Dahl, allmusic.com
download: uploaded gett 4shared ziddu sugarsync mediafire anonfiles hostuje
Last Updated (Wednesday, 17 April 2013 22:27)