Joe Louis Walker – Blues Survivor (1992)
Joe Louis Walker – Blues Survivor (1992)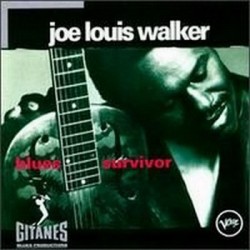 01.Help Yourself 06:53
02.Shake For Me 06:49
03.My Dignity 05:39
04.Young Girl's Eyes 04:22						play
05.Part Of Me 07:25
06.Bad Thing 05:12
07.You Just Don't Know 05:50
08.Put You Down, Baby (Album Version) 04:49		play
09.Blues Survivor 06:38
10.Rainy Nights 05:24
11.Workin' Blues 05:04

Personnel:
Joe Louis Walker And The Bosstalkers:
Joe Louis Walker (guitar, slide guitar, vocals), 
Tim Devine (saxophones), 
Jeff Lewis (trumpet), 
Mike Eppley (keyboards),
Henry Oden (bass),
Paul Revelli (drums).

By no means a bad album, Walker's major-label debut just wasn't quite as terrific as what directly preceded it. The studio atmosphere seems a bit slicker than before, and the songs are in several cases considerably longer than they need to be (generally in the five- to seven-minute range). A reworking of Howlin' Wolf's "Shake for Me" is the only familiar entry. --- Bill Dahl, AMG
I love this CD. Joe Louis Walker cuts some great recordings, and this is my favorite. My favorite is "My Dignity," which is borderline jazz and builds to a great climax during the saxophone solo. Other high points include the infectious grooves and great guitar playing on "Shake for Me" and "Young Girl's Eyes," as well as the story telling of "Blues Survivor." "Part of Me" is a great ballad blues, but far from placid. It has lots of emotional hills and valleys. "Bad Thing" has awesome guitar and piano solos. The horns in the recording also compliment it very well. Trust me. This CD will not bore you. At first listen, you might associate JLW's style with Robert Cray's style, but JLW's voice is more dynamic, and he has a rare talent for presenting many different styles of blues on this, as well as most of his CDs.
I also love the way the recording is produced. There is just enough reverb (and not too much) so that if you turn it up real loud on a nice stereo, it sounds just like you are in a blues bar with a killer sound system. All of JLW's other CDs are great too (especially "JLW," which features the Tower of Power horns, & "Blues of the Month Club,"). Even though the horns on this CD aren't T.O.P., the compositions and production of this recording are what give it the edge for me. --- RHR3 "Music Lover/Book Fan" (Rockford, IL USA)
download:   uploaded yandex 4shared ziddu sugarsync mediafire anonfiles hostuje
Last Updated (Wednesday, 17 April 2013 21:30)