Nina Van Horn ‎– From Huntsville To Jordan (2006)
Nina Van Horn ‎– From Huntsville To Jordan (2006)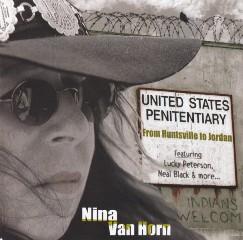 1 	Feelings For Sale 	4:31
2 	You Changed 	3:25
3 	Huntsville 6.15 Pm 	5:27
4 	Bayou Love Child 	3:43
5 	Out Of The Rain 	5:52
6 	Say It To My Face 	2:40
7 	Good Bye New Orleans 	4:45
8 	So What? 	4:49
9 	Get Away Jordan 	3:43
10 	Always French In Bed 	2:43
11 	Some Girls 	3:08

Bass – Kim Yarbrough
Dobro – Peter Nathanson (tracks: 3,11)
Drums – Fred Kolinski (tracks: 7,8,9), Larry Crockett (tracks: 1,2,4,5,6,10,11)
Guitar – Fred Chapellier (tracks: 6,8), Juju Child (tracks: 2),
		 Neal Black (tracks: 1,3,4,5,6,7,8,9,10), Paul Nils (tracks: 2)
Harp – Mickey Blow (tracks: 11)
Harp, Accordion – Pascal Mikaélian (tracks: 3,4,7)
Keyboards – Julien Brunetau (tracks: 2,4,6,7,9)
Organ – Lucky Peterson (tracks: 1,5,10)

This cd is taking you on the roads to Texas like an initiatic journey from the jails of Huntsville to the riverbanks of Jordan ! Thi cd is a collaboration with Neal Black for the music and Nina for the lyrics. Prestigious guests appear on the cd. ---ninavanhorn.com
What a splendid invitation to dream and travel that this "From Huntsville to Jordan", the new album of Nina Van Horn. As of the first measures of "Feelings for sale", the song which opens the album, we're conquered by the precision of the play on the organ Hammond, which one guesses as of the first quiverings of his hands on the keyboard that it can be nobody else but Mr Lucky Peterson.
Then very quickly we're seduced by the splendid husky voice, and the perfectly mastered singing of Nina Van Horn. It is certain, Nina is here at the top of her art!
Lastly, we're impressed by the undeniable talent of the American and French musicians and who took part in the recording of the album and follow Nina on stage : Neal Black (composer of the majority of the songs and producer of the album) and Fred Chapelier at the guitar, Kim Yarbrough (Screamin' Jay Hawkins, Bernard Allison, Eric Bibb) at the bass, among others.
Musically impeccable this album is a real invitation to an initiatory travel through the United States by the means of 11 compositions (of which one song of Tony Joe White) as succeessful as varied: from the penitentiary of Huntsville in Texas (the touching "Huntsville 6.15 pm"), to the clubs of Chicago ("Get away Jordan"), and learnedly integrating rock and funk (the very sexy "Always french in bed").
Lastly, the review of this album could not finish without highlighting the quality of the compositions of this album which, under airs the great classic of the Blues, reveal a writing of great talent, modern and inventive.
Close simply the eyes and "From Huntsville to Jordan", wonder of talent and emotion of Nina Van Horn, will make you dream and travel. Why deprive yourself ? ---bluescat.ch
download (mp3 @320 kbs):
yandex mediafire uloz.to mega 4shared cloudmailru gett