Sippie Wallace - Complete Recorded Works (2009)
Sippie Wallace - Complete Recorded Works (2009)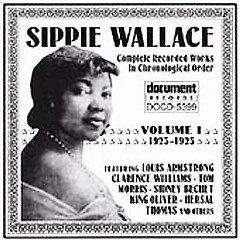 Vol. 1 (1923 - 1925)
1	Up the Country Blues	
2	Shorty George Blues		
3	Mama's Gone, Goodbye 
4	Caldonia Blues		
5	Underworld Blues			
6	Leavin' Me Daddy Is Hard to Do			
7	Can Anybody Take Sweet Momas Place			
8	Stranger's Blues			
9	Sud Bustin' Blues			
10	Wicked Monday Mornin' Blues			
11	Baby, I Can't Use You No More			
12	Trouble Everywhere I Roam		
13	I've Stopped My Man			
14	Walkin Talkin' Blues			
15	I'm So Glad I'm A Brownskin			
16	Off And On Blues			
17	He's the Cause of Me Being Blue			
18	Let My Man Alone Blues			
19	Morning Dove Blues			
20	Devil Dance Blues			
21	Every Dog Has Its Day			
22	Section Hand Blues			
23	Parlor Social de Luxe			
24	Being Down Don't Worry Me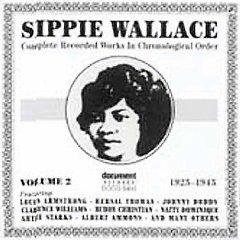 Vol. 2 (1925 - 1945)
1	Advice Blues			
2	Murder's Gonna Be My Crime		
3	Man I Love			
4	I Am Leaving You			
5	I'm Sorry for It Now			
6	Suitcase Blues 
7	I Must Have It			
8	Jealous Woman Like Me			
9	Special Delivery Blues		
10	Jack O'Diamond Blues			
11	Mail Train Blues			
12	I Feel Good			
13	Man For Every Day In The Week			
14	I'm a mighty tight woman 
15	Bedroom Blues			
16	Dead Drunk Blues 
17	Have You Ever Been Down? 
18	Lazy Man Blues			
19	Flood Blues			
20	You Gonna Need My Help			
21	I'm a mighty tight woman 
22	Bedroom Blues			
23	Buzz Me

Personnel: 
Sippie Wallace (vocals); 
Lonnie Johnson, Bud Scott, Cal Smith (guitar); 
Buddy Christian (banjo); 
Artie Starks (clarinet, tenor saxophone); 
Johnny Dodds (clarinet); 
Natty Dominique (trumpet); 
Cicero Thomas, Louis Armstrong (cornet); 
Clarence Williams, Hersal Thomas, Albert Ammons (piano); 
Tom Taylor (drums).

Sippie Wallace was one of the great blues singers of the 1920s. Although she occasionally sang non-blues material on records, the blues was where her powerful voice sounded best. Document, on two CDs, has released all of her recordings prior to 1958. The first disc starts out with impressive performances on the hits "Up the Country Blues" and "Shorty George Blues," which find Sippie backed by Eddie Heywood, Sr.'s fluid piano (one of his best records). Wallace is heard accompanied by Clarence Williams' more basic piano during 1924-25 and with bands that include Louis Armstrong (very much in the background on two songs), Sidney Bechet, cornetist King Oliver (for three songs), other Williams associates of the period, plus her young brother, pianist Hersal Thomas. Among the more notable selections are "Mama's Gone, Goodbye," "Leavin' Me Daddy Is Hard to Do," "Baby, I Can't Use You No More," "Walkin' Talkin' Blues," "I'm So Glad I'm Brownskin" and "Devil Dance Blues." Although the second Document volume gets the edge (better recording quality and some exciting contributions by Louis Armstrong), the first CD is well worth getting too by vintage blues collectors. Most of these performances have been difficult to find for decades.
The second half of blues singer Sippie Wallace's early career is fully chronicled on this Document CD, the second of two. All but the last four numbers were recorded from 1925-27. Although the four tunes from the August 25, 1925 session have a cornball gaspipe clarinetist, this is more than compensated for by ten numbers that feature Louis Armstrong in 1926-27. Satch does not get that much space to cut loose, but he clearly inspired Sippie, and vice versa. In addition, Wallace's younger brother, pianist Hersal Thomas, is heard on his last recordings before his early death, while cornetist Cicero Thomas fares well on two songs. Among the high points are "Murder's Gonna Be My Crime," "Suitcase Blues," "Special Delivery Blues" (which has some brief talking by Armstrong), the two earliest versions of Sippie's "I'm a Mighty Tight Woman" (including one from 1929 with clarinetist Johnny Dodds), and "The Flood Blues." Unfortunately, Sippie Wallace apparently lost the desire to record after Hersal Thomas' passing, and she only recorded four selections during the 1928-57 period. There are two cuts here from 1929, plus a pair from 1945 that have the singer backed by a quintet that includes tenor saxophonist Artie Starks, pianist Albert Ammons and guitarist Lonnie Johnson. Highly recommended for blues collectors, as is the first volume. ---Scott Yanow, Rovi
download:   uploaded anonfiles mega 4shared mixturecloud yandex mediafire ziddu