Graham Wood Drout & Albert Castiglia - Bittersweet Sessions (2005)
Albert Castiglia - The Bittersweet Sessions (With Graham Wood Drout) (2005)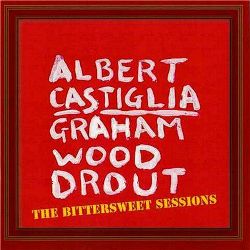 01. The Ghosts Of Mississippi - 5:44 
02. Ain't No Way To Get Along - 3:22 
03. 32/20 - 4:31 
04. Sweet Home Chicago - 7:07 
05. Pretty Thing - 4:54 						play
06. Blow Wind Blow - 4:49						play 
07. Ticket Agent Blues - 5:02 
08. Sitting On Top Of The World - 5:43 
09. Prescription For The Blues - 4:02 
10. The Sky Is Crying - 7:08 
11. 3 Fingered Fellas Named "Short - 3:11 
12. I Shall Be Released - 6:26

Little Silver Records announced that the new album from Albert Castiglia and Graham Wood Drout "; Bittersweet Sessions "is now available and features live and acoustic duo performances recorded last year Bittersweet Blues, a place with live music near Fort Lauderdale, FL .
"This is something that Albert and I wanted to do for a long time," reports Drout. "It was one of those great nights and we felt very happy that the show was captured." Little Silver Records has released the first single, "Ghosts of Mississippi"(composed by Drout and also appears as the title track to Joey Gilmore CD by that name) to the radio using the new method of distribution of direct download for program directors and music directors.
mix of originals, standards and familiar songs Blues "Bittersweet Sessions" gives a sense of old school flavor with new recipes school performed live and acoustically at Bittersweet Blues on April 12, 2005. Distinctive song titles: "The Ghosts of Mississippi"(G. Drout), 32/20(Robert Johnson), Pretty Thing(Willie Dixon) and an outstanding version of Bob Dylan's "I Shall Be Released."
For a young age, Castiglia has history – History of Blues. In 1990 he joined the Miami Blues Authority and won "Best Blues Guitarist" from New Times Magazine. He was discovered by the legendary Junior Wells, who immediately hired Castiglia to his own guitarist / vocalist on several world tours. After passing Wells, Castiglia ventured on a solo career and released "Burn" working with his longtime friend, Graham Wood Drout of Iko-Iko. Sophomore solo Castiglia will be released in early spring of 2006.
The second live record and the fifth time overall to bear his name, Graham Wood Drout is a Miami legend who has worked with a literal "who's who" of Rock, Blues and country music. Emphasizing his career over 25 years of Graham Wood Drout team that Iko Iko-, presented performances that have appeared in the films "Cape Fear", "Contact" and AAA / Blues / Alt favorite radio Country "(I've Got) Gris-Gris" "Bag Me, Tag Me, Take Me Away" and "Celebration", which are still very popular today. Drout received the award for "Best Blues Band" and "Songwriter of the Year" from New Times Magazine, the Jammy Award for "Best Blues Band" and his music was described by Blues Revue magazine "Soul filling ideas that flow from the pen[Drout is] and to the heart of the listener … the result is breathtaking. "
capacity Drout to discover outstanding musical talent is impressive. So-called "voodoo rock" band line up hosted many premier performers(Ron Dziubla / Chayanne, Ricky Martin, Nick Kane / Mavericks, Glen Caruba / Sheryl Crow, Don Henley, Bruce Springsteen, Mike Bauer / Pam Tillis, Point of Grace) from their team home debut for the first cabaret in Miami, Tobacco Road and has a backup who's who of legendary performers in different places. --- liveblues.blogspot.com
download (mp3 @320 kbs):
yandex mediafire ulozto gett bayfiles
Last Updated (Monday, 17 August 2020 13:52)