James Montgomery Band - From Detroit to the Delta (2013)
James Montgomery Band - From Detroit to the Delta (2013)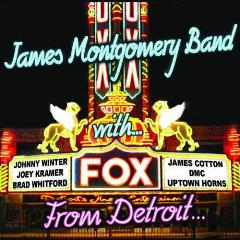 1. Intoxicated
2. Same Thing
3. Little Johnny
4. Motor City is Burning
5. I Don't Want to Have A Heart
6. Delta Storm
7. Who Do You Love?
8. Put Your Money Where Your Mouth Is
9. Hit The Road Jack
10. Rivers Edge
11. Changing Of The Guard
12. Black Cadillac

James Montgomery's new album is all over the place, and that is intentional. The kingpin of New England blues uses "From Detroit to the Delta" to celebrate the many blues traditions he has explored in a career that stretches back to the late 1960s.
The razor-sharp performance skills Montgomery and his band routinely display on stage tie together this revue of blues as filtered through R&B, funk, rock, country, and Chicago styles. Montgomery's pliable vocals and harmonica playing smoothly move from the slick, horn-driven numbers such as "Intoxicated" to the grittier fare represented by the rumble of John Lee Hooker's "Motor City Is Burning" and ethereal cry of the instrumental "River's Edge."
Guests along for the trip include slide-guitar ace Johnny Winter, Aerosmith's drummer Joey Kramer and guitarist Brad Whitford, rapper Darryl "DMC" McDaniels, the Uptown Horns, and blues-harp legend James Cotton.
The added star power makes the stylistic leaps more palatable. But Montgomery's band — guitarist George McCann, bassist Dave Hull (who also produced the record), and drummer Seth Pappas — provides the confidence and balance necessary to pull off a record like this. The crew is right in the pocket with the boss, adding soulful character to the project whether handling the country lope of McCann's "Put Your Money Where Your Mouth Is" or turning Willie Dixon's "Same Thing" into fuzzed-out psychedelia. --- jamesmontgomery.com
download:  uploaded ziddu 4shared mediafire hostuje gett