Bob Dylan – Slow Train Coming (1979)
Bob Dylan – Slow Train Coming (1979)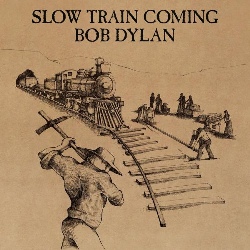 1. Gotta Serve Somebody – 5:22
2. Precious Angel – 6:29
3. I Believe In You – 5:07
4. Slow Train – 5:58
5. Gonna Change My Way Of Thinking – 5:29
6. Do Right to Me Baby (Do Unto Others) – 3:51			play
7. When You Gonna Wake Up – 5:27
8. Man Gave Names To All The Animals – 4:24				play
9. When He Returns – 4:27

Personnel:
- Bob Dylan - guitar, vocals
- Mark Knopfler - guitars
- Barry Beckett - keyboards, percussion
- Pick Withers - drums
- Tim Drummond - bass
- Muscle Shoals Horns - horns
- Carolyn Dennis, Helena Springs, Regina Havis - background vocals
- Harrison Calloway - arrangements
- Mickey Buckins – percussion

Slow Train Coming is singer-songwriter Bob Dylan's 19th studio album, released by Columbia Records in August 1979.
It was the artist's first effort since becoming a born-again Christian, and all of the songs either express his strong personal faith, or stress the importance of Christian teachings and philosophy. The evangelical nature of the record alienated many of Dylan's existing fans; at the same time, many Christians were drawn into his fan base. The album was generally well-reviewed in the secular press, and the single "Gotta Serve Somebody" became his first hit in three years, winning Dylan the Grammy for best rock vocal performance by a male in 1980. The album peaked at #2 on the charts in the UK and went platinum in the US, where it reached #3. ---wikipedia
Perhaps it was inevitable that Bob Dylan would change direction at the end of the '70s, since he had dabbled in everything from full-on repudiation of his legacy to a quiet embrace of it, to dipping his toe into pure showmanship. Nobody really could have expected that he would turn to Christianity on Slow Train Coming, embracing a born-again philosophy with enthusiasm. He has no problem in believing in a vengeful god -- you gotta serve somebody, after all -- and this is pure brimstone and fire throughout the record, even on such lovely testimonials as "I Believe in You." The unexpected side effect of his conversion is that it gave Dylan a focus he hadn't had since Blood on the Tracks, and his concentration carries over to the music, which is lean and direct in a way that he hadn't been since, well, Blood on the Tracks. Focus isn't necessarily the same thing as consistency, and this does suffer from being a bit too dogmatic, not just in its religion, but in its musical approach. Still, it's hard to deny that Dylan doesn't sound revitalized here, and the result is a modest success that at least works on its own terms. --- Stephen Thomas Erlewine, allmusic.com
Slow Train Coming – 19 studyjny album nagrany przez Boba Dylana w kwietniu i maju 1979 r. wydany w tym samym roku w sierpniu. W połowie grudnia 1978 r. Dylan zakończył długi i intensywny okres tur koncertowych. Naychmiast po skończeniu tournée, zamiast wypoczynku, zapisał się do School of Discipleship by studiować Biblię przy kościele chrześcijańskim w Tarzana, dość blisko od jego domu w Malibu.
Już w trakcie kursu zaczął pisać nowy cykl piosenek. W marcu 1979 r. skontaktował się z Jerrym Wexlerem, znakomitym producentem takich artystów jak m.in. Ray Charles, Aretha Franklin, Wilson Pickett i poprosił go o zrobienie z nim albumu. Wexler przyprowadził ze sobą klawiszowca i współproducenta Barry'ego Becketta, świetnego basistę studyjnego (i nie tylko) Tima Drummonda oraz dwóch muzyków z grupy Dire Straits – gitarzystę Marka Knopflera i perkusistę Picka Withersa.
Muzycy, z którymi Dylan nagrał album, nigdy z nim jeszcze nie nagrywali i nie byli zaznajomieni z jego specyficznymi metodami pracy w studiu. Mimo tego album, który powstał, zebrał bardzo dobre recenzje i okazał się jednym z jego najlepiej się sprzedających.
Album ten wyróżnia się znakomitym brzmieniem; jest to zasługą teamu producenckiego i samego Dylana, któremu zależało na nagraniu wartościowej płyty, która mogłaby oddziaływać na ludzi zarówno dzięki jej świetnemu brzmieniu, jak i nowo odkrytej przez artystę "prawdzie", wyrażanej niezwykle szczerym głosem. Utwór "Gotta Serve Somebody" zdobył w 1980 r. nagrodę Grammy "za najlepsze rockowe wykonanie".
download (mp3 @320 kbs):
yandex 4shared mega mediafire cloudmailru uplea
Last Updated (Sunday, 10 July 2016 20:48)