Nastolatki ‎– Żegnajcie Najmilsze Lata (Nagrania Archiwalne Z Lat 1964-1966) (2017)
Nastolatki ‎– Żegnajcie Najmilsze Lata (Nagrania Archiwalne Z Lat 1964-1966) (2017)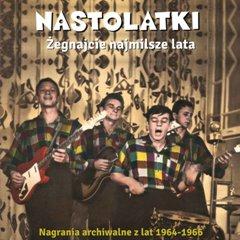 Nagrania Studyjne
1 	Grają Nastolatki 	1:23
2 	Z Miejsca Na Miejsce 	2:04
3 	Żegnajcie Najmilsze Lata 	2:13
4 	Pozdrowienia Od Synka 	3:01
5 	Mieszkam Sobie Na Poddaszu 	1:56
6 	Zabawa 	3:29
7 	Dość Kłamstwa 	3:51
8 	Zmienisz Się 	2:43
Nagrania Koncertowe
9 	Wciąż Przed Siebie (Opole 1964) 	2:30
10 	Cztery Słońca (Opole 1964) 	2:20
11 	Zawsze Sam (Gdańsk 1966) 	2:19
12 	I Znowu Wokół Szary Dzień (Gdańsk 1966) 	3:53
13 	Dość Kłamstwa (Gdańsk 1966) 	4:06
Nagrania Dodatkowe
14 	Podkład Instrumentalny #1 	2:19
15 	Podkład Instrumentalny #2 	2:35
16 	Podkład Instrumentalny #3 	2:44

Wszystkich, którzy sugerując się sympatyczną nazwą zespołu spodziewają się posłuchać miłej i łatwo wpadającej w ucho muzyki, czeka spory szok. Nieco wbrew swojej (młodzieżowo-niewinnej) nazwie, nieszablonowa twórczość Nastolatków zaskakuje już od pierwszych taktów.
Po wczesnym okresie działalności w którym grupa prezentowała głównie instrumentalne okraszone nieschematycznymi i oryginalnymi melodiami nagrania nawiązujące do stylu The Shadows, formacja ewoluowała w prawdziwą muzyczną petardę.
Ostre wokale, przesterowane partie gitar, garażowe brzmienie i melodyka, jaka z pewnością była wówczas mocno szokująca dla rodzimych odbiorców, stały się znakiem rozpoznawczym formacji. Zespół z dużą swobodą i naturalnością czerpał amerykańskiego garage beatu i brytyjskiego rhythm and bluesa, będąc bez wątpienia jedną z naszych najciekawszych grup tamtego okresu.
Materiał został zremasterowany z taśm matek oraz najlepiej zachowanych kopii przez leadera grupy Aleksandra Nowackiego. Edycja w rozkładanym card sleevie ze specjalną kopertą na płytę. Pozycja więcej niż obowiązkowa dla wszystkich fanów polskiego big beatu i tropicieli początków naszego rodzimego rocka. ---kameleonrecords.pl
Today almost forgotten, Nastolatki are a beat band from the mid-'60s whose over a dozen recordings have survived to the present day. For the first time in history, here's a complete set of (100% unpublished) surviving recordings from this legendary band from Wroclaw. 16 tracks, over 44 minutes of music. ---clear-spot.nl
download (mp3 @320 kbs):
yandex mediafire ulozto gett bayfiles